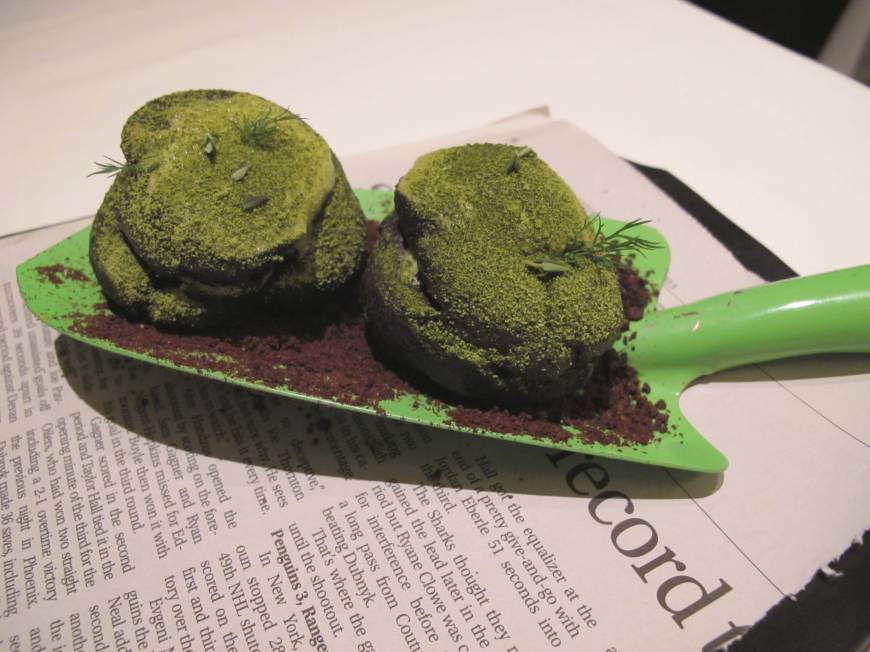 Review excerpt: Japanese cuisine at its loftiest is elegant and profound, uplifting, sometimes even transcendent. It can be taut as a tea ceremony or exquisite as a furisode kimono. But inventive, irreverent, humorous? Only at Den.
From the very first bite — most likely a monaka wafer stuffed with rich foie gras — to the final mouthful — invariably a trompe l'oeil dessert — dinner at Den unfolds with a series of unothodoxies, visual puns and witticisms. Whether it's your first visit or your 30th, there is only one way to approach it: Expect the unexpected.
Not that you'd guess it from the outside. Facing onto a quiet pedestrian-only alley just steps away from the Jimbocho crossing, the dark timber facade looks nothing but traditional. Carefully illuminated and with only a small kanji character on an unobtrusive stick-on seal to identify that you have come to the right place, it feels as discreet and refined as a high-end kaiseki (formal Japanese) restaurant in Kagurazaka.
It's no coincidence. Den's youthful owner-chef, Zaiyu Hasegawa, has a family connection with that old-school nightlife district. That is where he began his career, working at Unotoku, an exclusive ryotei (high-end restaurant) where clients are entertained by geisha as they dine. He also learned under other chefs in the area, including a short stint with kaiseki master Hideki Ishikawa.
By the time he was 29, Hasegawa had opened Den. It was a rapid rise, and that upward trajectory is still continuing. Within five years — Hasegawa celebrated his anniversary last month with a full-on collaboration dinner with his friend, chef Hiroyasu Kawate of Florilège — Den has moved from an insiders' secret to one of the most sought-after bookings in the city.