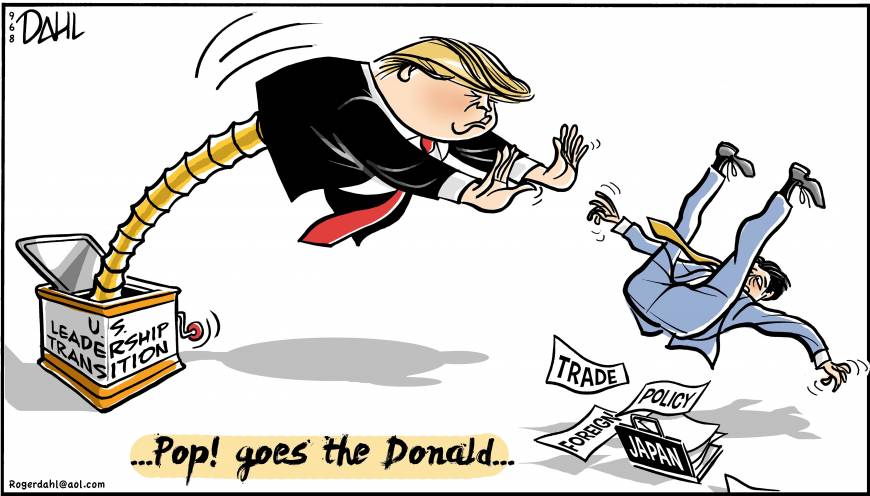 Editorials
One-off legislation may be the easiest way to allow Emperor Akihito to abdicate, but it would leave the issue unresolved for future emperors.
The government has done a poor job of identifying and providing relief to victims of Minamata disease.
Commentary
The World Economic Forum's annual assessment of global risks, published this month, rates extreme weather events as the most likely risk to the world.
Washington's campaign against Russian President Vladimir Putin exposes the pattern of duplicity that has pervaded U.S. foreign policy.
Commentary
When did the Japanese start reversing the family-personal name order for Western consumption?
At a recent conference funded by the Toshiba Foundation on the media's role in representing the shared wartime past in East Asia, scholars and journalists gathered at Cambridge University to assess the current state of play. In general, the gathered academics understood the demands ...
Donald Trump's quip about using couriers instead of email may not be such a bad idea.
Having called out China as a currency manipulator, U.S. President Donald Trump now says the dollar is too strong.
As Donald Trump assumes the U.S. presidency, a group of 35 prominent international business leaders is stepping forward to defend open markets, endorse the fight against climate change, and demand a massive push against global inequality.
Trump's much-derided, frequently written off and ultimately successful candidacy has exposed the intellectual inadequacies and political perils of mono-journalism.
Combating climate change isn't high on Donald Trump's to-do list.