The Karuizawa Prince Hotel East in Nagano Prefecture reopened on July 12 after the renovation of all 70 rooms, the lobby and its two restaurants.
The hotel is part of The Prince Grand Resort Karuizawa that is familiar to a wide range of customers as a comprehensive resort that spreads on the south side of Karuizawa Station. Surrounded by abundant green, it is comprised of a hotel, golf course, ski resort, wedding ceremony facilities and a shopping mall. Following the renovations, the Hotel East building has become a "lifestyle zone" that fits each customer's lifestyle where guests can take advantage of the two restaurants. The All-Day Dining Karuizawa Grill offers private rooms for groups (¥10,000), with dishes priced from ¥750, while Teppanyaki Shabu-shabu Sukiyaki Breeze has menu items from ¥3,500.
An accommodation plan that includes an autumn spa program for ladies using Swiss-born Valmont cosmetics repairs skin damaged by summer's UV rays. The plan is priced from ¥36,000 per person for a room for two with breakfast and a 60-minute spa treatment. Additionally, morning yoga at the top of the Karuizawa Prince Hotel ski resort is available, allowing guests to admire the natural mountain landscape of Karuizawa. The ¥5,000 price includes the lesson fee, a round trip lift ticket and tax..
Karuizawa Prince Hotel East is 10 minutes from Karuizawa Station. (Free shuttle bus available.) For more information, contact 0267-42-1111 or visit www.princehotels.com/karuizawa-east/.
Enjoy cool Japanese summer culture
This summer, the Westin Tokyo has prepared the "Cool Japan Summer Package," which is available through Aug. 31. Loaded with new benefits for the Executive Club, it is highly recommended for foreign visitors who would like to delve deeper into Japanese culture.
The package includes yukata (summer cotton kimono with an obi belt and geta sandals), from which guests can choose from 10 popular designs, accommodation in an Executive Club room or suite and new benefits of the Executive Club. Guests don't have to worry about how to wear yukata, as the hotel will help guests dress in it.
Soothing and romantic scenery of the Westin Garden and excellent hotel service await guests. Executive Club benefits include a free cocktail service from 5:30 p.m. to 7:30 p.m. in the Executive Club Lounge or at the bar, making free local calls, light snacks and 24-hour access to gym facilities and the adjacent gym and pool facilities.
Guests that post photos of themselves wearing yukata on social media with hashtag #WestinTokyoSummer, can show the photos to the restaurant staff and receive a free drink.
The package starts from ¥49,626 per person and from ¥52,877 for two. Breakfast, tax and service charge included.
The Westin Tokyo is in Yebisu Garden Place, seven minutes from Ebisu Station. For more information, call 03-5423-7000.
Taking in the city sights and lights
The Hotel Century Southern Tower's Lounge South Court on the 20th floor offers the Summer Night Selection plan through Aug. 31.
The Lounge South Court plan offers food and drink set menus, from which diners can choose from three dishes and four drinks. The food choices are fried shrimp in corn grits with sweet sauce, Asian-style spicy spareribs or shellfish steamed in white wine and thyme.
Offering the perfect complement to the food are the four beverages options of Suntory The Premium Malts, Roederer Estate Quartet Anderson Valley Brut sparkling wine, Suntory Japan Premium Koshu white wine and mojito. Non-alcoholic cocktails are also available.
Enjoy a summer evening with a bite and a drink, while taking in the sparkling night views of Shinjuku's skyscrapers.
The Summer Night Selection plan, priced at ¥2,400 (tax and service charge included), is available from 5:30 p.m. to 10:30 p.m.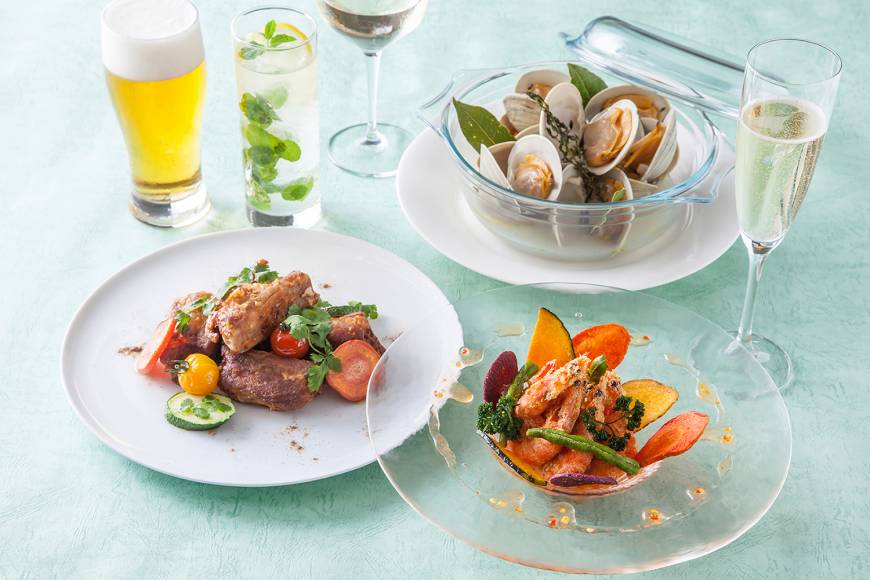 The Hotel Century Southern Tower is three minutes from Shinjuku Station's South Exit. For more information or reservations, call 03-5354-0111, or visit www.southerntower.co.jp.