The Imperial Hotel Tokyo is offering a limited spring plan through April 25 for guests to celebrate school entrances. The wide variety of sweets and picnic boxes available at Gargantua, the hotel bakery on the first floor, is also perfect for hanami cherry blossom viewing parties.
For the plan, the bakery has introduced a number of new products such as a berry farm tart with three different berries (strawberries, blueberries and cranberries) topped with streusel biscuit flakes and dried fruit (¥4,320), and a sakura (cherry blossom) tart covered with pink streusel and sugared sakura petals (¥4,320, available until April 17).
Other celebratory sweets include small cakes resembling the shape of a randoseru elementary school bag (¥864), as well as a beautiful cake decorated with roses (¥6,480). All prices include tax.
Additionally, through April 30 Gargantua is offering a variety of delicious side dishes such as sandwich baskets and beef cutlet and fried shrimp sandwiches. Grilled pork, or Spanish mackerel meuniere with Provence tomato sauce, as well as an array of pastries ranging from bread rolls to brioche are also offered until April 25.
The Imperial Hotel Tokyo is three minutes from Hibiya Station and six minutes from Yurakucho Station. For more information or reservations, call 03-3504-1111 or visit www.imperialhotel.co.jp.
Renovated eatery offers French fare
After a major renovation, Royal Park Hotel The Shiodome reopened its main restaurant on April 1, christening the new eatery All-Day Dining Harmony.
Located on the 24th floor where diners can enjoy a spectacular view of Hamarikyu Gardens during the day and twinkling city lights in the evening, the bistro-style restaurant offers a selection of French food and wine.
Harmony offers a buffet for breakfast and lunch at ¥2,970 and ¥3,210 respectively on weekdays. At night, 15 new a la carte dishes and two party plans are now available in addition to the prix fixe course menu.
The standard party plan for ¥6,000 consists of six seasonal dishes and two hours of free-flowing beer, wine and soft drinks. The premium plan, priced at ¥8,000, offers seven dishes plus a two-hour free flow with additional whisky and shochu Japanese distilled spirits. Both plans are available for groups of four or more.
The prix fixe courses are categorized by their main dishes of fish, meat or a combination of the two, and are priced from ¥6,000 to ¥11,000. All prices include tax and a 10 percent service charge.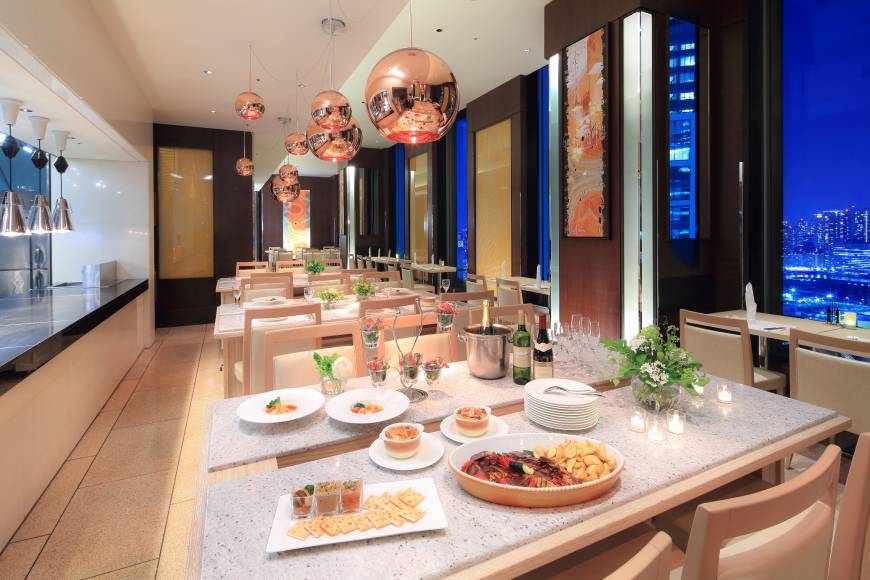 Royal Park Hotel The Shiodome is five minutes from Tokyo Metro Shinbashi Station and one minute from Yurikamome Station. For more information, call 03-6253-1111 or visit www.rph-the.co.jp/shiodome/.
Asian flavors beneath the blooms
The Shangri-La Hotel, Tokyo is offering take-out sakura cherry blossom picnic boxes until April 15.
Limited to 30 boxes and filled with a variety of Asian hors d'oeuvres, the picnic boxes are recommended for the hanami cherry-blossom viewing parties. Each box contains a set of six different dishes such as beef salad, fresh spring rolls, shrimp and rice vermicelli salad, marinated chicken, green papaya salad with crab flakes, bean sprouts with roasted peanuts; and a sakura cupcake, showcasing the essence of spring.
Created by a Malaysian chef, the carefully selected and prepared items offer distinct flavors that will surely provide an Asian-style cherry blossom viewing experience. The boxes are ¥10,000 per person (tax included) and are available at the 28th floor lobby.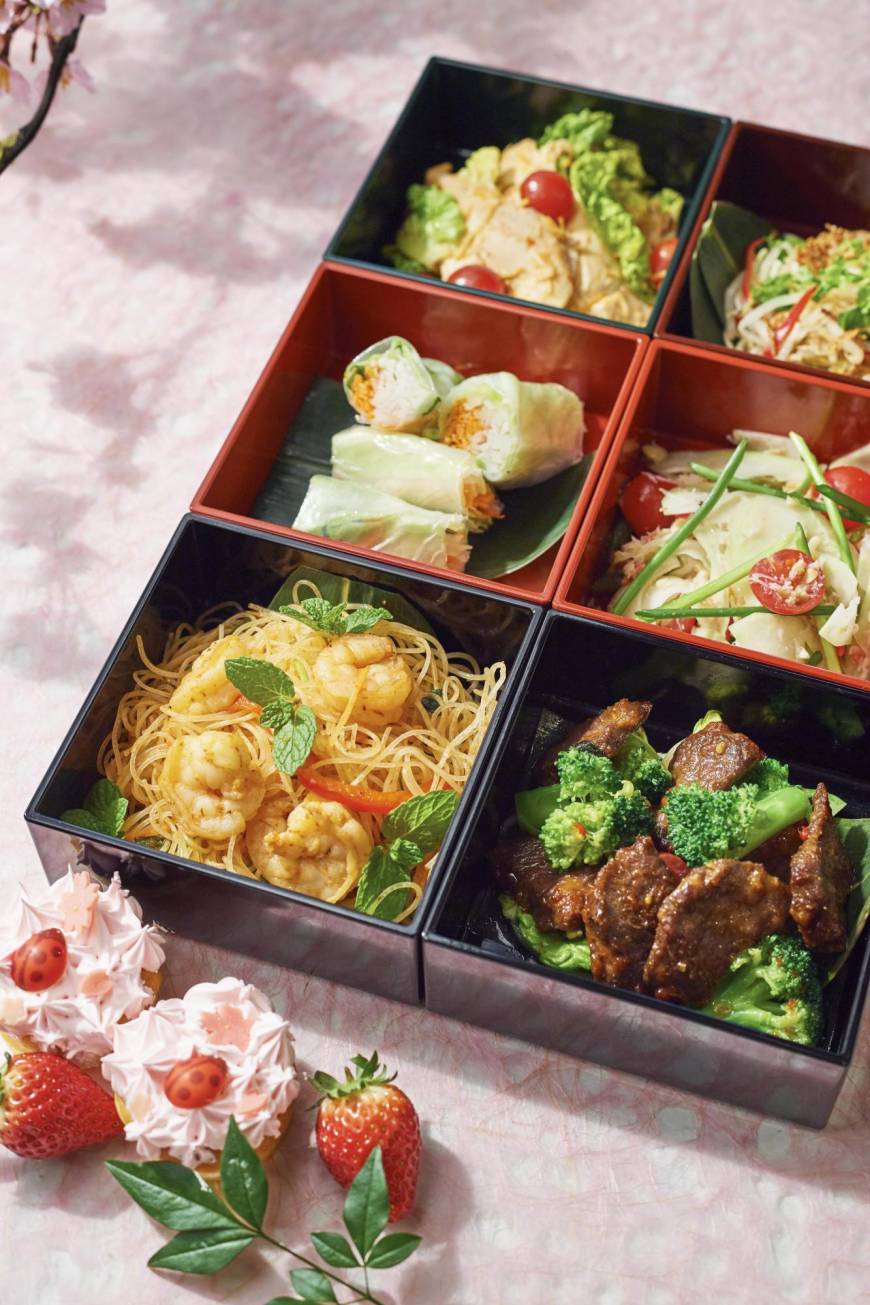 The Shangri-La Hotel, Tokyo is two minutes from Tokyo Station Nihonbashi Exit. For more information and reservations, call 03-6739-7888 or visit www.shangri-la.com/jp/tokyo/shangrila/.