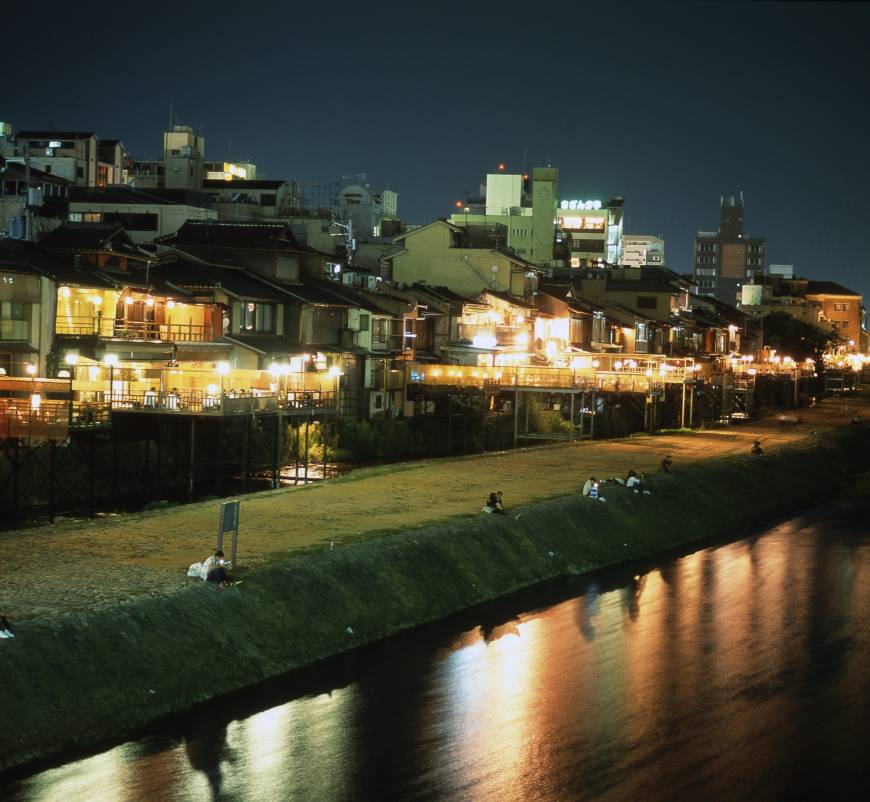 Kamo River Summer Terraces
Over the centuries, Japanese people have thought up many ways to combat the muggy summer weather. Kyotoites in particular have always beat the heat with a certain elegance, one way has been to take their meals on kawayuka (dining terraces built on rivers).
This tradition goes back to the beginning of the Edo Period (1603-1868), when teahouses were set up along the Kamo River. Their presence helped rejuvenate the city, which had been devastated by the Onin War (1467-77).
The former capital now boasts restaurants along the river, which runs through the heart of the city. There are four kawayuka sections: Kamikiyamachi, Pontocho, Saiseki and Shimokiyamachi. They are separated by bridges — from Nijo-Ohashi to Gojo-Ohashi — with the Pontocho stretch, which is closest to Gion, being the largest of the four.
Visitors can enjoy dining on the terraces of 98 different establishments that range from high-class restaurants such as Pontocho Robin to Mochi Ryori Kitamura (which specializes in rice cakes) to chocolatier Salon de Royal Kyoto. There's even a branch of Starbucks.
The outdoor patios are open during the evenings from May to September, but will usually open for lunch in the first and final months of this period as well.
The kawayuka, depicted in works by artists such as Maruyama Okyo (1733-95) and Ando Hiroshige (1797-1858), are popular with both tourists and locals, so if you want to take part in one of Kyoto's centuries-old traditions it is best to make reservations well in advance. (Yuki Yamauchi)
Kamogawa Noryo Yuka (Kamogawa Riverside Summer Terrace) continues until Sept. 30 at various restaurants along the Kamo River. Operating hours differ depending on the restaurant. The venues are near Kyoto Shiyakusho-mae and Hankyu Kawaramachi stations.