The ANA InterContinental Tokyo's second-floor Cascade Cafe is offering its first Peruvian buffet dinner through June 30.
Supported by the Peruvian embassy, the buffet offers authentic and traditional Peruvian dishes chosen from a rotating menu of 20 dishes, ranging from the iconic Peruvian ceviche (marinated seafood), lomo saltado (sauteed beef and vegetables) and causa (potato salad with seafood) to seafood-based soup and other Andes-inspired dishes made using meat, potatoes, tomatoes and other ingredients from the region.
As for drinks, guests will be offered Peruvian beverages that complement the delicious food, including the popular Inca Kola, chilcano (a cocktail based on pisco grape spirits) and Crystal beer, which has the largest market share in Peru.
The buffet is ¥6,090 for adults, ¥4,990 for those over 65 years old and ¥3,400 for children between 4 and 8 years old on weekdays. On weekends and holidays, the prices are ¥6,680, ¥5,500 and ¥3,600, respectively. All prices exclude tax and service charge..
The ANA InterContinental Tokyo is five minutes from Tameike-Sanno Station. For more information or reservations, call 03-3505-1111, or visit www.anaintercontinental-tokyo.jp.
Celebrate 20 years with luxurious accommodation
In celebration of its 20th anniversary, the Ritz-Carlton Osaka is offering three accommodation plans through Dec. 31.
In commemoration of the opening of the hotel in May 1997, the first accommodation plan is available for ¥2,000,000 for two, providing guests with a dreamlike, romantic experience. The plan includes an order-made dinner, pair treatment at the hotel spa, a relaxing bath filled with rose petals, 200 red roses decorating the room, a 30-minute, in-room live concert, a bottle of Champagne, breakfast at the La Baie French restaurant and many other goodies.
The second plan is the club-level accommodation plan that offers various items such as a plush hotel lion mascot and a box of four delicious 20th-anniversary chocolates. One night for two people is priced from ¥47,595.
Finally, the superior room accommodation plan offers standard rooms with the perk of a 20th-anniversary box of chocolates. Guests can enjoy excellent views of Osaka from its wide windows, while enjoying the evening in the spacious 40-sq.-meter room. One night for two people is priced from ¥35,591.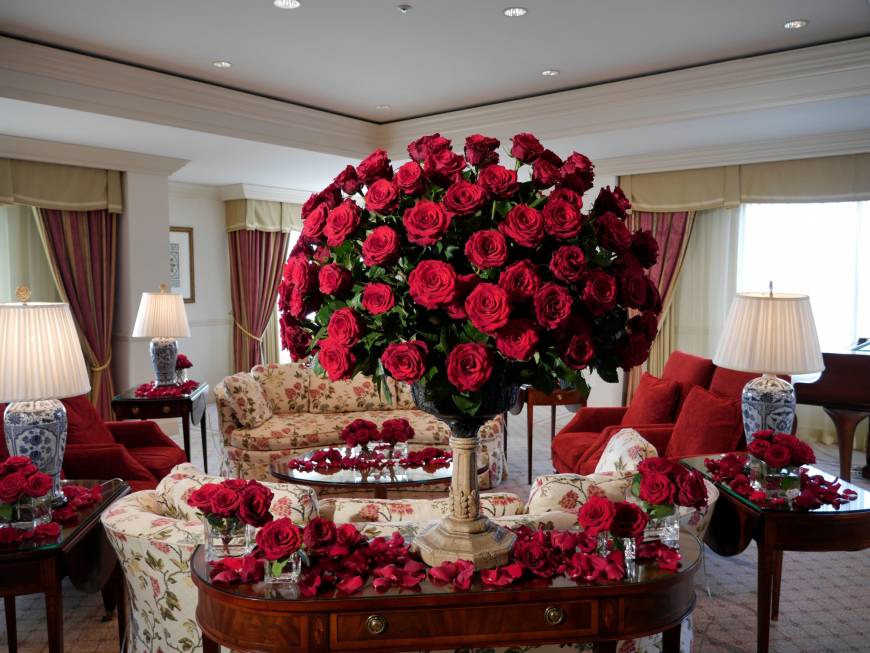 The Ritz-Carlton Osaka is seven minutes from Osaka Station. For more information and reservations, call 06-6343-7000 or visit www.ritz-carlton.co.jp.
In-room dining offers high-end culinary experience
In commemoration of the renewal of the Executive Lounge, The Conrad Tokyo is offering the Ultimate Suite Hideaway, an urban escape for guests to indulge in the luxury of in-suite experiences.
The renovated Executive Lounge offers a panoramic view of Tokyo Bay and Hamarikyu Gardens. Its new interior is a fusion of traditional Japanese architecture and modern design.
Available through the end of the year, the highlight of the plan is the in-room culinary service provided by the five restaurants and bars of the hotel. The menu includes amuse-bouches, a selection of Chinese dim sum, seasonal Japanese appetizers, sweets, a bottle of Veuve Clicquot Champagne and wines selected by hotel sommeliers.
Access to the gym, swimming pool, Executive Lounge, which offers complimentary afternoon tea and evening cocktails, and breakfast in bed or at Cerise, the hotel's brasserie-inspired restaurant, are also included in the plan. Rooms can be selected from six types available starting at ¥90,000 (tax and service charge excluded) for an Executive City Suite for two persons, a special offer priced only ¥10,000 more per person than a regular room without meals.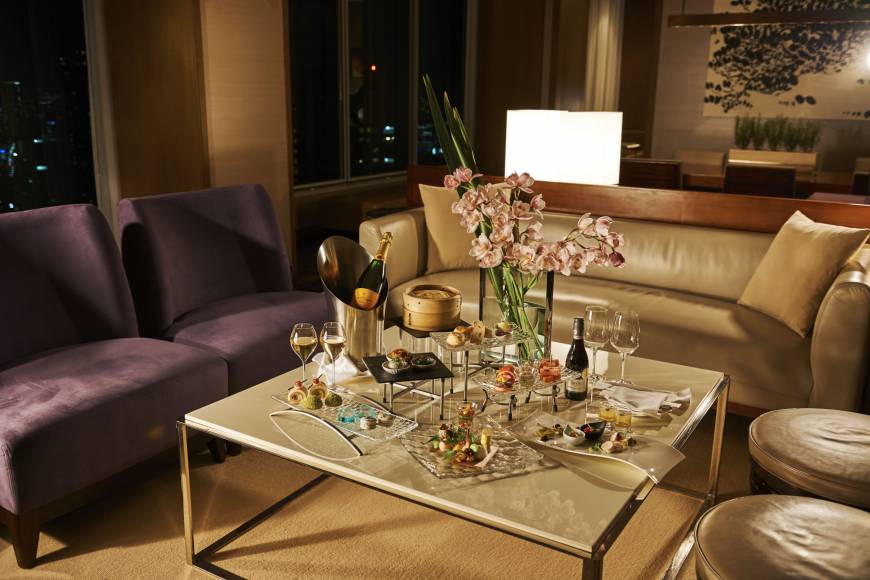 The Conrad Tokyo is in the Tokyo Shiodome Building, one minute from Shiodome Station or seven minutes from Shimbashi Station. For more information or reservations, call 03-6388-8000 or visit www.conradtokyo.co.jp.