The Lounge South Court on the 20th floor of the Hotel Century Southern Tower in Shinjuku Ward, Tokyo, offers "South Court Brunch" on weekends and holidays.
The featured dish of the brunch is a rice flour waffle sandwich with a fried egg, bacon and fresh tomato. The waffle, made of 100 percent rice flour, is crispy on the outside and fluffy on the inside. The eggs are from hens raised on nutritious groundwater in Yomogida, an area blessed with a rich natural environment, in Aomori Prefecture.
The waffle sandwich comes with a large serving of french fries, soup, a choice of orange, grapefruit, tomato and cranberry juice and coffee or tea.
Enjoy late morning luxury dining overlooking Shinjuku from 100 meters above the ground.
Brunch is available from 10:00 a.m. to 12:30 p.m. for ¥2,300. A glass of sparkling wine (¥500) can be added to the brunch to spice up the weekend and holiday morning atmosphere. Prices include tax and service fees.
The Hotel Century Southern Tower is three minutes from the South Exit of Shinjuku Station. For more information and reservations, please call 03-5354-2152 or visit www.southerntower.co.jp.
Stay plan offers high-quality beef
The Key Highland Izu in Shizuoka offers accommodation plans with unique dinner courses in collaboration with Tokyo Cowboy until December 20. Tokyo Cowboy is a butcher shop in Tokyo that specializes in Japanese beef, especially high-quality heifer.
The "Experience" plan starts at ¥21,000, while the "Gourmand" plan starts at ¥25,000 per person per night for a room for two with dinner and breakfast. The prices include tax and service fees.
The dinner menu for both plans includes Japanese beef cooked three different ways, teppanyaki, or iron grill cooking) of two kinds of Japanese beef and seasonal vegetables, Japanese clear soup and chocolates.
Several other dishes featuring seasonal ingredients are prepared for each plan, including grilled fish caught locally, boiled garland chrysanthemum and shītake mushrooms soaked in soup stock, consomme jelly with figs and Japanese beef prosciutto, grilled Japanese beef and alfonsino, sashimi, marinated and grilled autumn vegetables and cutlass fish, locally grown rice and more.
A selection of wines selected to pair with the collaboration dinners is available for ¥4,800 (tax excluded.) It includes a glass of Cuvee Royal Brut champagne, Josh Jensen Selection Chardonnay, and Clos du Val Classic.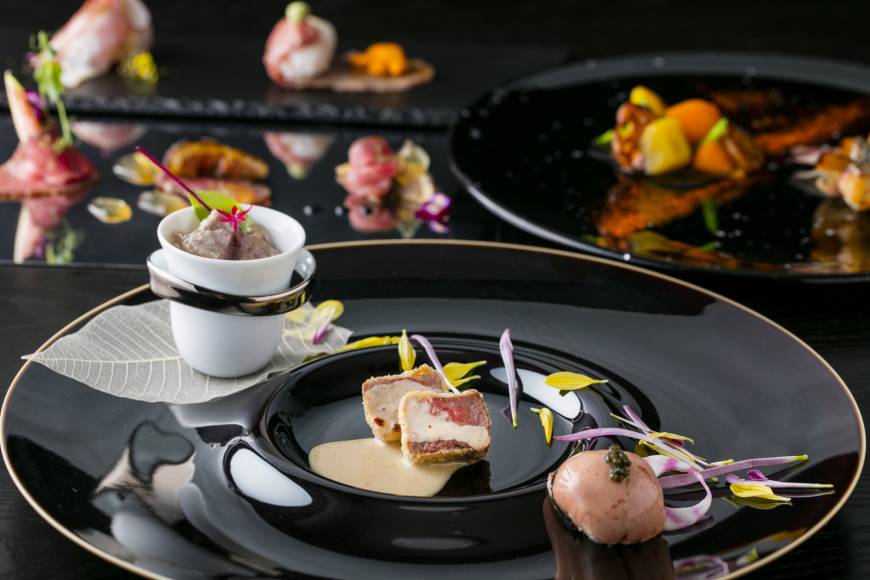 The Key Highland Izu is about a 10-minute drive from Izu Kogen Station. For more information, please call 0288-76-2032 or visit http://highland-izu.the-key.jp.
Plan offers wedding in luxurious suite
Beginning on Oct. 7, the Imperial Hotel Osaka is offering an in-suite wedding plan. One of the hotel's luxurious suites is used as a bride's room, wedding room, and accommodation for the bride and groom offering private, luxurious and relaxed atmosphere. The plan is limited to one couple per day.
The Imperial Hotel in Tokyo has organized weddings since its establishment in 1890 and created the basis of the typical Japanese hotel wedding ceremony and party. Carrying on the same tradition and hospitality, the Imperial Hotel Osaka opened in 1996 and has hosted wedding ceremonies and parties ever since.
The room can accommodate 20 people, including the bride and groom, for the wedding party. The plan is priced at ¥540,000 for six people and is ¥25,000 per additional person. It includes full-course French meals, drinks, flower arrangements, printed materials such as menus and place cards and a studio photo shoot (one pose). The price includes tax and service charges.
An accommodation discount for wedding guests is available. Additionally, the bride and groom will receive either an invitation to one of the hotel's restaurants or a gift for their first wedding anniversary.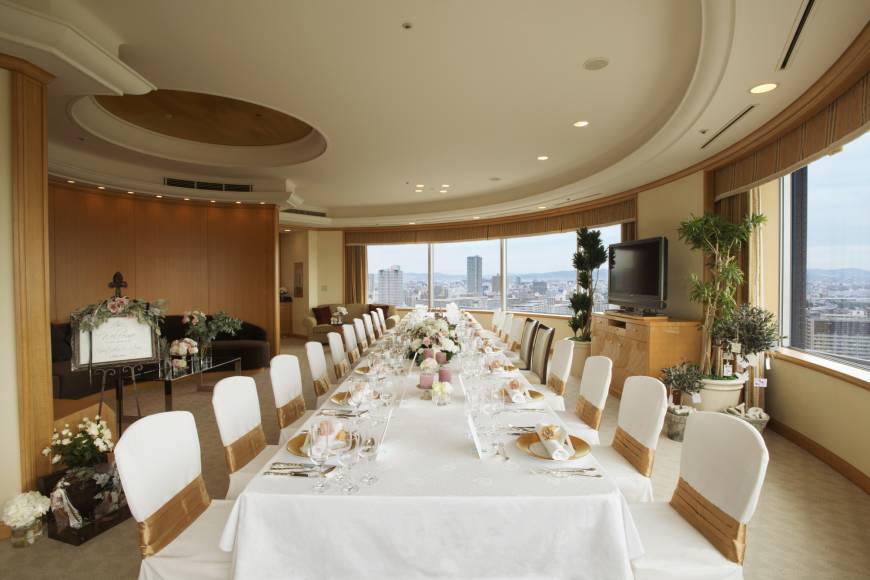 The Imperial Hotel Osaka is five minutes from JR Sakuranomiya Station (complimentary shuttle bus available from JR Osaka Station). For more information, call 06-6881-4100 or visit http://www.imperialhotel.co.jp/j/osaka/