Restaurants at The Ritz-Carlton, Osaka, are offering autumn menus created with rich and colorful seasonal ingredients.
The French restaurant La Baie's autumn menu includes dishes featuring shrimp, scorpion fish and Hokkaido venison. The lunch course starts at ¥6,900, while dinner starts at ¥14,000.
Mediterranean tapas are available at the lobby lounge for ¥5,500 from 11 a.m. to 10 p.m. through Oct. 31. Brightly colored drinks such as sangria and punch are perfect to wash down Iberico ham, chorizo and other spicy and delicious tapas.
An afternoon tea in the theme of "jewelry" is also offered at the lobby lounge between 11 a.m. and 7 p.m. until Nov. 30 for ¥4,900.
The Japanese restaurant Hanagatami's autumn delicacies include smoked and grilled saury and leeks, crabmeat wrapped in strips of marinated white radish and matsutake mushrooms in a hollowed-out persimmon topped with persimmon vinegar jelly. The autumn menu is available until Nov. 6 at ¥9,800 for lunch and ¥18,800 for dinner.
Last but not least, Chinese restaurant Xiang Tao offers spicy fried Ise lobster and other delicious dishes for their lunch and dinner courses priced at ¥8,400 and ¥18,500 respectively until Dec. 11.
All prices exclude tax and service charge.
The Ritz-Carlton, Osaka, is seven minutes from Osaka Station. For further information and reservations, call 06-6343-7020 or visit www.ritz-carlton.co.jp.
Feast on Halloween eats and treats
The ANA InterContinental Tokyo is offering "Halloween Dinner Buffet 2017" from Oct. 1 to 31 at its Cascade Cafe. On Saturdays and on Oct. 29, 30 and 31, professional stylists will be on hand to paint the faces of children (4 to 12 years old) in a Halloween motif for free.
Those wearing Halloween costumes or something orange and black will enjoy a 20 percent discount and those who bring a Halloween item can get 10 percent off for the buffet.
The Halloween special menu includes the witch's special tomato soup, pumpkin and smoked chicken salad with red wine vinegar, pumpkin and bacon pizza, Halloween paella, pumpkin and mushroom gratin, pumpkin pudding, monster cookies and other items created using seasonal ingredients.
The dinner buffet starts at 6 p.m. on weekdays, with 5 p.m. and 7:30 p.m. seatings on weekends and holidays.
The buffet is priced at ¥6,090 on weekdays and ¥6,680 on weekends and holidays for adults and ¥3,400 on weekdays and ¥3,600 on weekends and holidays for children between 4 and 12. Additional all-you-can-drink plans are priced at ¥3,500 for wine and soft drinks and ¥1,000 for only soft drinks. All prices exclude tax and service charge.
The ANA InterContinental Tokyo is five minutes from Tameike-Sanno Station. For more information or reservations, call 03-3505-1185 or visit www.anaintercontinental-tokyo.jp.
Tea sets offer guests afternoon delights
The Conrad Tokyo's bar and lounge TwentyEight is offering the "White Afternoon Tea" from Nov. 1 to Jan. 11. Guests can enjoy elegant and beautiful morsels of snowy white sweets savoring the luxurious winter ingredients used in creating them.
Both the Standard Afternoon Tea with free-flowing drinks on weekdays (¥4,500) and the Deluxe Afternoon Tea with a glass of Champagne and free-flowing drinks (¥6,650) present five kinds of sweets, three savory items and scones with clotted cream and mixed berry jam.
The selection of sweets include jelly made of miel de sapin, a honey produced from rare fir trees, served with vanilla panna cotta and white chocolate crunch, raspberry shortcake with rose-tinged whipped cream, chocolate tart with fromage blanc mousse, a gingerbread Christmas tree and cassis cream macarons.
Savory items include cauliflower mousse with shrimp, non-fried croquettes of foie gras and beef with white truffle-flavored onion puree and duck rillettes on rice flour buns.
The afternoon tea sets are available from 1:30 p.m. to 4:30 p.m. on weekdays; 11 a.m. to 4:30 p.m. and 6:30 p.m. to 8:30 p.m. on Saturdays and holidays; and 11 a.m. to 4:30 p.m. and 6:30 p.m. to 9:00 p.m. on Sundays. Prices exclude tax and service fee.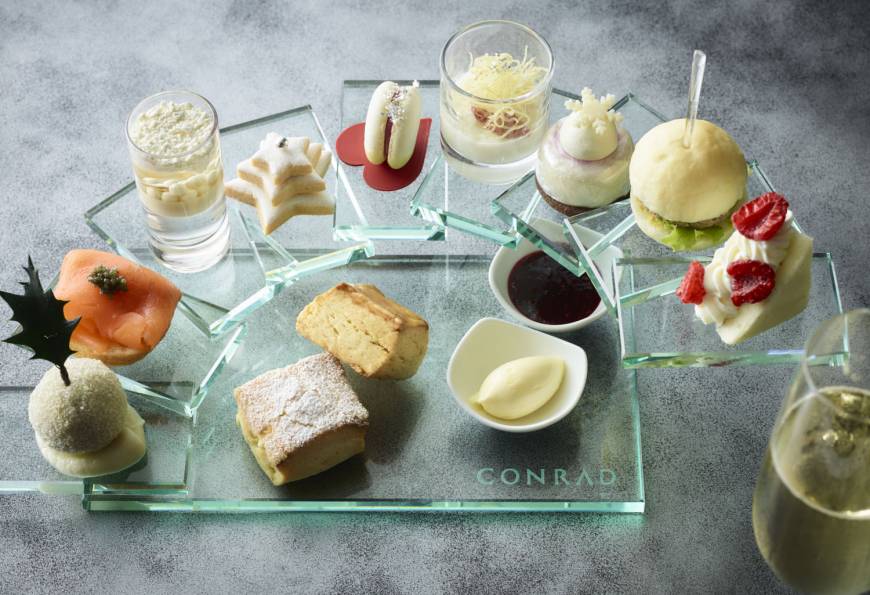 The Conrad Tokyo is in the Tokyo Shiodome Building, one minute from Shiodome Station, or seven minutes from Shinbashi Station. For more information or reservations, call 03-6388-8000.