A craft beer event, "Hop & Eats," with live music will be held on May 14 at Tennoz Central Tower, Canal Garden, near the Tennoz Isle waterfront.
Produced by Tysons & Company, breweries celebrating their 20th anniversaries such as T.Y. Harbor Brewery, Ise Kadoya, Swan Lake and Minoh beer are coming together in Tennoz under the theme of "Craft Beer x BBQ."
Served along with craft beer are all-you-can-eat American barbecue and hamburgers from T.Y. Harbor.
A fun day full of craft beer, live music and a special appearance from the craft beer bar El Camion cannot be missed.
The event will be held rain or shine twice on the day from 11 a.m. to 3 p.m. and from 4 p.m. to 8 p.m. Tickets for the buffet and two drinks are ¥5,000 for adults, ¥1,500 for children under 12 years old, and free for children under six. Each additional drink costs ¥500.
All tickets must be reserved in advance at hopandeats.peatix.com (limited to 350 tickets each session).
For more information, call 0120-700-633 (Bond St. Kitchen).
Summer soul sounds of the Stylistics
The Philadelphia-based soul vocal group The Stylistics is making a one-night-only appearance at the Cerulean Tower Tokyu Hotel on June 28.
Formed in 1968, the band is celebrated around the world. The group is well known for hit songs such as "Can't Give You Anything," "You Make Me Feel Brand New" and "You Are Everything."
In 2006, a Japanese cosmetics company popularized a variation of "Can't Give You Anything" in promotions, bringing in new fans of the band.
The live music will take place in the Cerulean Tower ballroom on the basement second floor, starting at 7 p.m. The doors open at 6:30 p.m. and the show will run to about 9:15 p.m.
The event was organized to commemorate the 16th anniversary of the hotel.
Tickets are ¥18,000 before April 30 and ¥22,000 after. The price includes a French buffet and four drinks. Prices include tax and 10 percent service charge.
Dress code is smart casual and reservations can be made online or at the banquet office.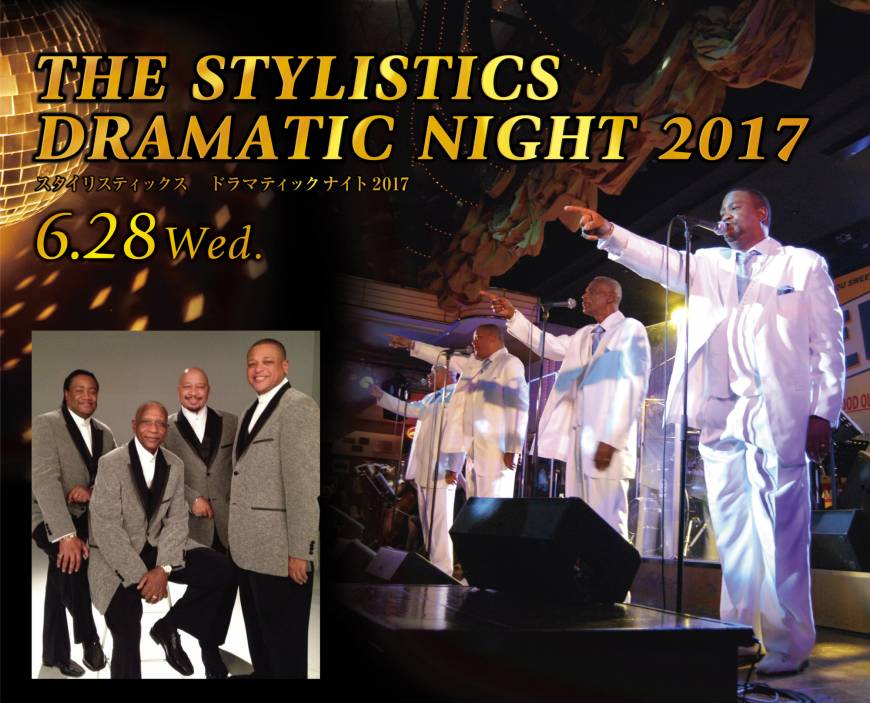 The Cerulean Tower Tokyu Hotel is five minutes from the West Exit of Shibuya Station. For more information or reservations, call 03-3476-3533 (banquet office) or visit www.ceruleantower-hotel.com/info/post/live-disco-night-2017-1.html .
New cafe, buffet serve up sizzle
The newly opened Grand Prince Slope Side Diner Zakuro Buffet & Cafe at the Hotel New Takanawa is divided into a buffet space with show kitchens and a cafe space with both indoor and terrace seating where guests can casually enjoy hotel-quality service.
The highlights of the buffet are the three show kitchens: grilled, stewed, baked dishes, as well as pasta and paella are cooked and presented to diners at the Sizzle Kitchen. Guests can enjoy watching the fluid movements and skills of sushi chefs, while also enjoying roast beef and shabu-shabu (thinly sliced beef and pork dipped in boiling water) prepared at the Savory Kitchen. Ice cream cake, original gelatos and other tempting desserts are served at the Pastry Kitchen. The buffet breakfast is ¥3,400 for adults and ¥2,000 for children. Adult prices for lunch and dinner are ¥4,000 and ¥6,500 respectively on weekdays and ¥4,500 and ¥7,000 on weekends and holidays.
Meanwhile, the cafe offers a variety of lunch plates starting at ¥1,600, assorted desserts and a la carte dinner dishes such as a plate of homemade smoked ham, cheese, scallops, sardines and vegetables (¥1,600), domestic cheeses and sliced baguette (¥1,600) and charcuterie that go perfectly with a selection of craft beers, gin and wine. All prices include tax and exclude service charge.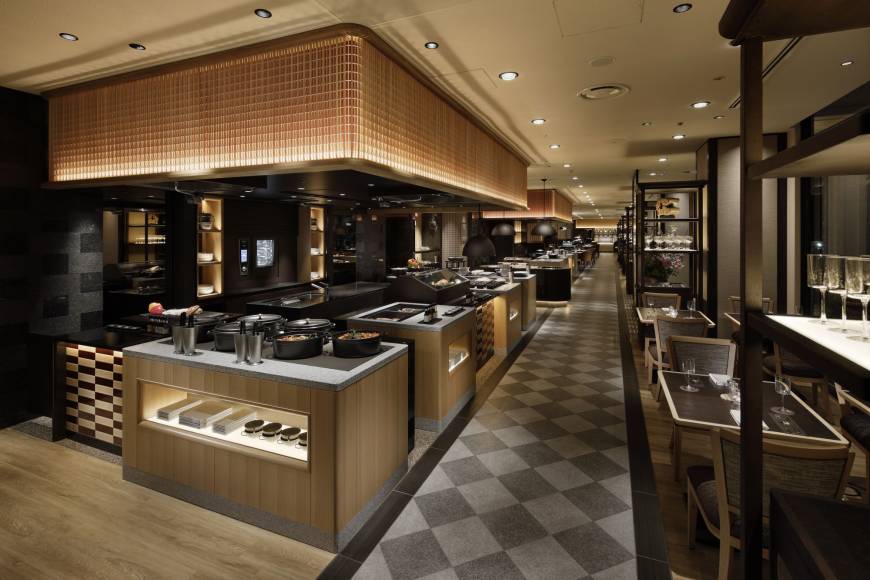 Grand Prince Hotel New Takanawa is five minutes from Shinagawa Station Takanawa Exit. For more information, call 03-3442-1111 or access www.princehotels.co.jp/newtakanawa/restaurant/zakuro/.