There's new hope for the contemporary art scene in Japan — or at least that's what the narrative is surrounding Tokyo Gendai, an art fair that held its inaugural event earlier this month.
The international art fair was able to turn the 20,000-square-meter exhibition hall at the Pacifico Yokohama convention center into a temporary bonded area, thanks to recent revisions of Japanese tax law relating to the import, storage and sale of art coming into Japan. That is to say, galleries and collectors that participated in the fair were exempt from paying the usual 10% import tax on bringing artwork into the country — a long-running issue for Japan's art scene that other Asian art markets have not been hampered by.
Tokyo Gendai is not the first in Japan to take advantage of the tax relief, however. Last September, Art Fair Asia Fukuoka claimed the first bonded area in the country, albeit on a much smaller scale than Tokyo Gendai. Terrada Warehouse in Shinagawa opened a bonded gallery area that same month, following the establishment of a permanent bonded storage facility earlier in 2022. Haneda Airport has hosted a bonded area for exhibitions and auctions since 2021.
Japan already has a long-running art fair, Art Fair Tokyo, but because of Tokyo Gendai's focus on being an international fair of contemporary art, its point of reference is not the annual event that takes place at the Tokyo International Forum — once roasted as a "market of the mediocre" by Blum & Poe gallerist Ashley Rawlings — but its predecessor, the Nippon International Contemporary Art Fair (NICAF).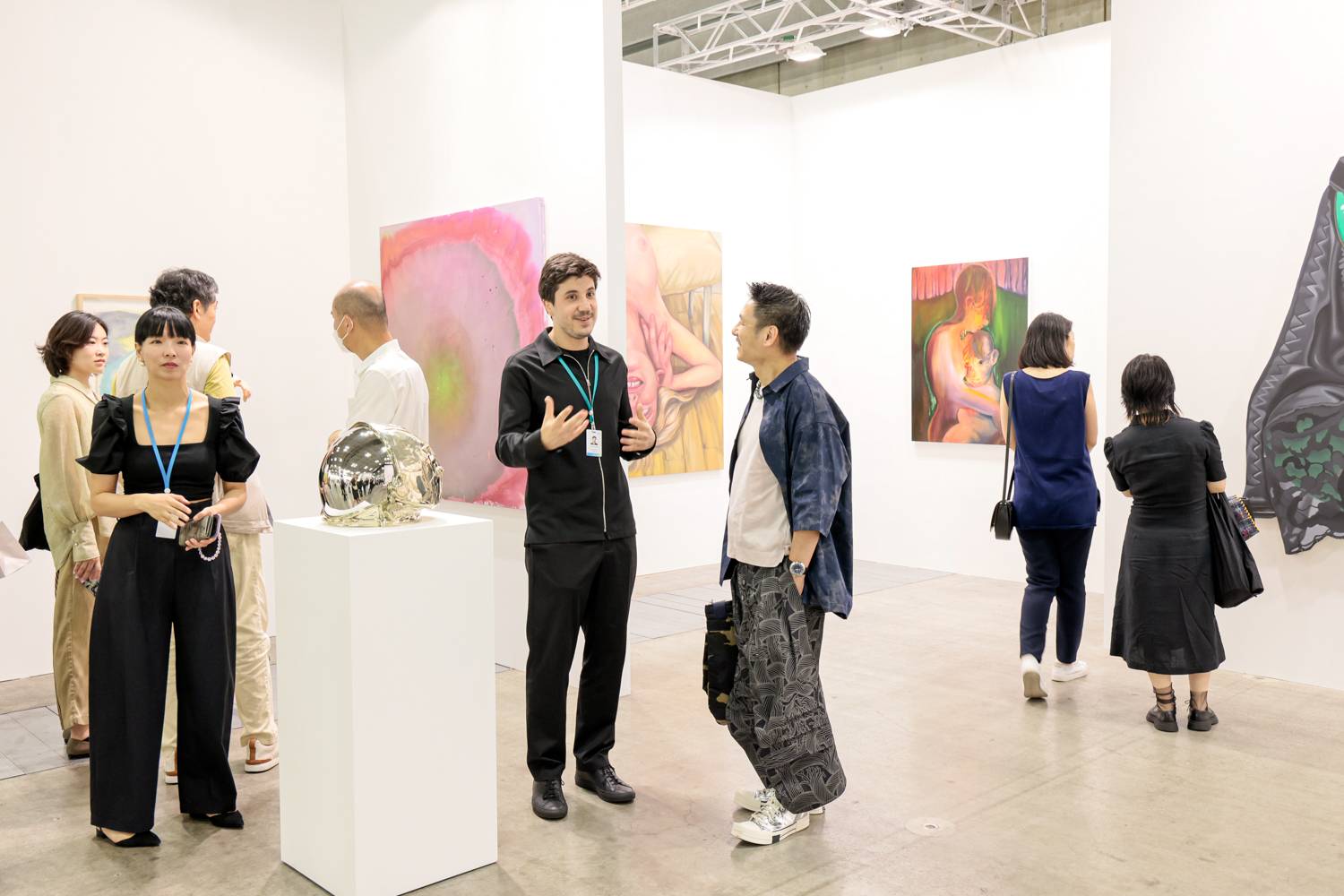 NICAF lasted only four years, from 1992 to 1995, when disappointing sales caused international galleries to pull out and the fair downsized into a more cozy village fete vibe. In its time it was also meant to augur Tokyo as a global art hub. The Mori Art Museum was even more focused on making Japan's capital a go-to destination for the international contemporary art crowd when it opened in 2003. Its ambitions of being "world class" downsized to focusing on Asia after its British director David Elliot left in 2006. In a press conference at the time, incoming director Fumio Nanjo justified this pivot by saying that the museum no longer needed to justify itself in relation to "the West." At the same time, he said he wanted to "catch the wave" of Nicolas Bourriaud's relational aesthetics, in which the French curator proposed that in considering art, the process of audience interactivity is more valuable than excessive concern over the artist's intentions. Bourriaud's ideas were eight years old by that point, though, and had already been robustly challenged in subsequent criticism.
The optimism surrounding Tokyo Gendai, as expressed in media coverage of the event in outlets such as Artsy and the Art Newspaper and via the organizers themselves, hinges on the fact that once you enter the fair, for tax purposes, you are, as a fellow visitor reminded me on preview night, "not in Japan right now." Director Eri Takane described the high point of organizing the event as going to the customs office to pick up the signed bonded-area certification with Tokyo Gendai co-founder Magnus Renfrew. "It was historic," she told The Japan Times.
Referring to the demise of NICAF, Tokyo Gendai is described by fair organizers Art Assembly as Tokyo Bay's first international contemporary art fair in 30 years. Apart from the issue of customs duty, Takane contended that "unlike other art fairs in Japan, we have 60% international galleries and we review all the applications with selection committee members. By doing so, we retain the high quality of an international art fair, and I think that's unique."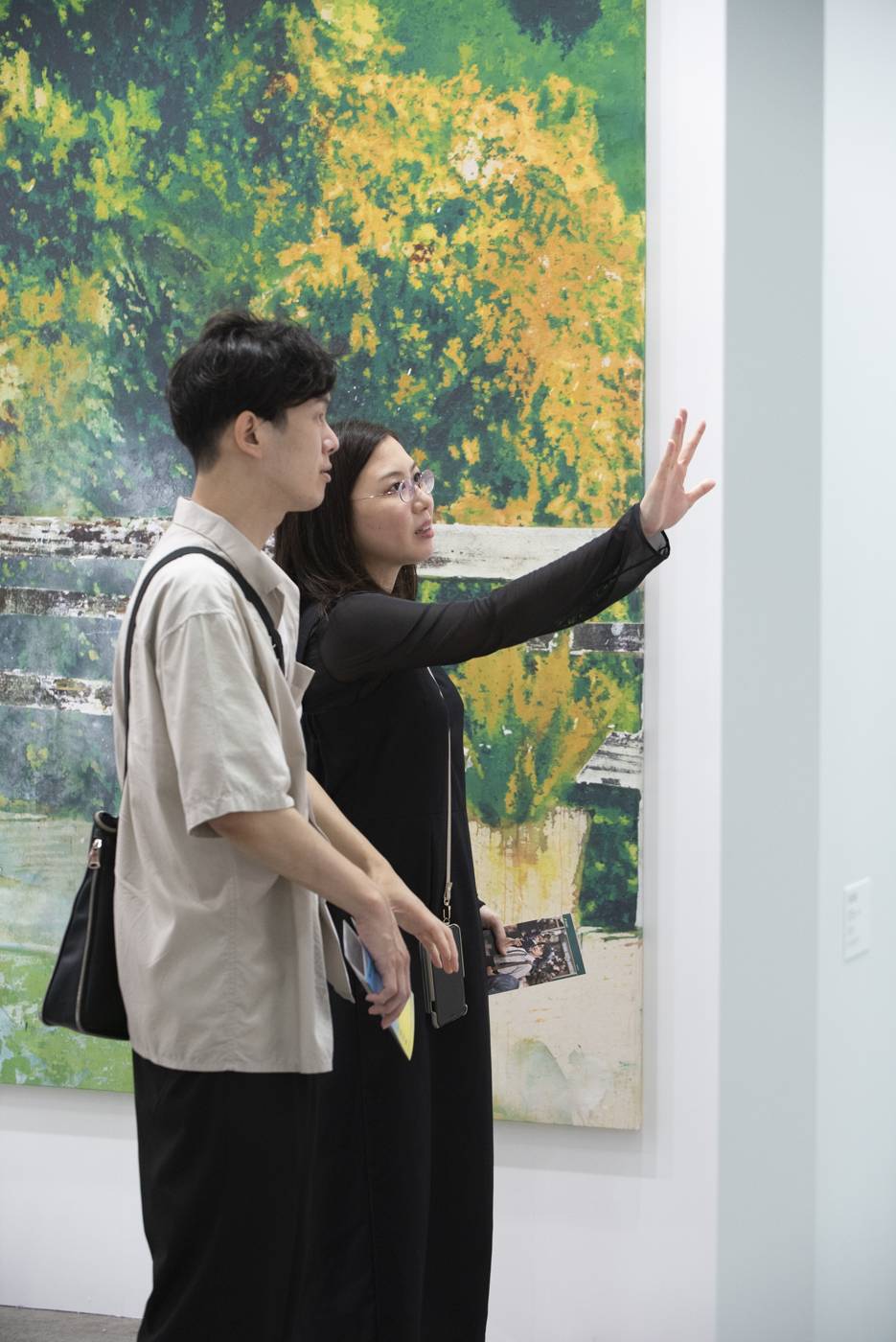 However, Tokyo Gendai isn't unique in Asia, being the latest in a string of fairs organized by Renfrew, who has been at the helm of Art HK in Hong Kong (which became Art Basel Hong Kong), Taipei Dangdai and Art SG in Singapore. As a recent interview with Renfrew in ArtNews put it, Tokyo Gendai is "betting big" by opening such a large contemporary art fair in a country where art for most people means figurative painting or ceramics. In 2021, according to the Japanese Art Industry Market Research Survey, sales of contemporary art totaled a relatively small ¥39.4 billion ($281.3 million) out of total art sales of ¥218.6 billion ($1.5 billion), which in itself is a very small figure in international terms. In the UBS Art Market Report of 2023 chart of global art sales — where the United States makes up 45%, followed by the United Kingdom with 18% — Japan sits at 1%.
Optimistically, Tokyo Gendai, which will return next year, can help change that. But the cultural factors that have repeatedly blunted Tokyo's art hub ambitions won't be magicked away by government policy. For example, Emma Fox and Andrew Jensen, the directors of the Fox Jensen and Fox Jensen McCrory galleries in Sydney and Auckland, were astounded by the paperwork needed to join the fair.
"The bonding was done with good intentions," Fox says, "but the execution has been very complicated. Overly so. Repeated asking for the same documents again and again."
Jensen agrees, adding, "The logistics on the ground are prohibitive as they stand. One hopes it's not a hurdle going forward, as international galleries won't come."
London-based Phillida Reid, whose Gendai booth featured enigmatic black-and-white photography by Joanna Pietrowska and colorful textile-based work by Japan-born Claudia Kogachi, describes her reasoning for joining the event as a combination of factors.
"It's nice to be at the beginning of a new fair," she says. "Also, Joanna already has a following in Japan, and with Claudia being from here, it became quite solid."
The booth was a popular stop for VIP groups led by fair partners Sumitomo Mitsui Banking, perhaps because the gallery had an assistant who could explain contemporary art in fluent Japanese and English.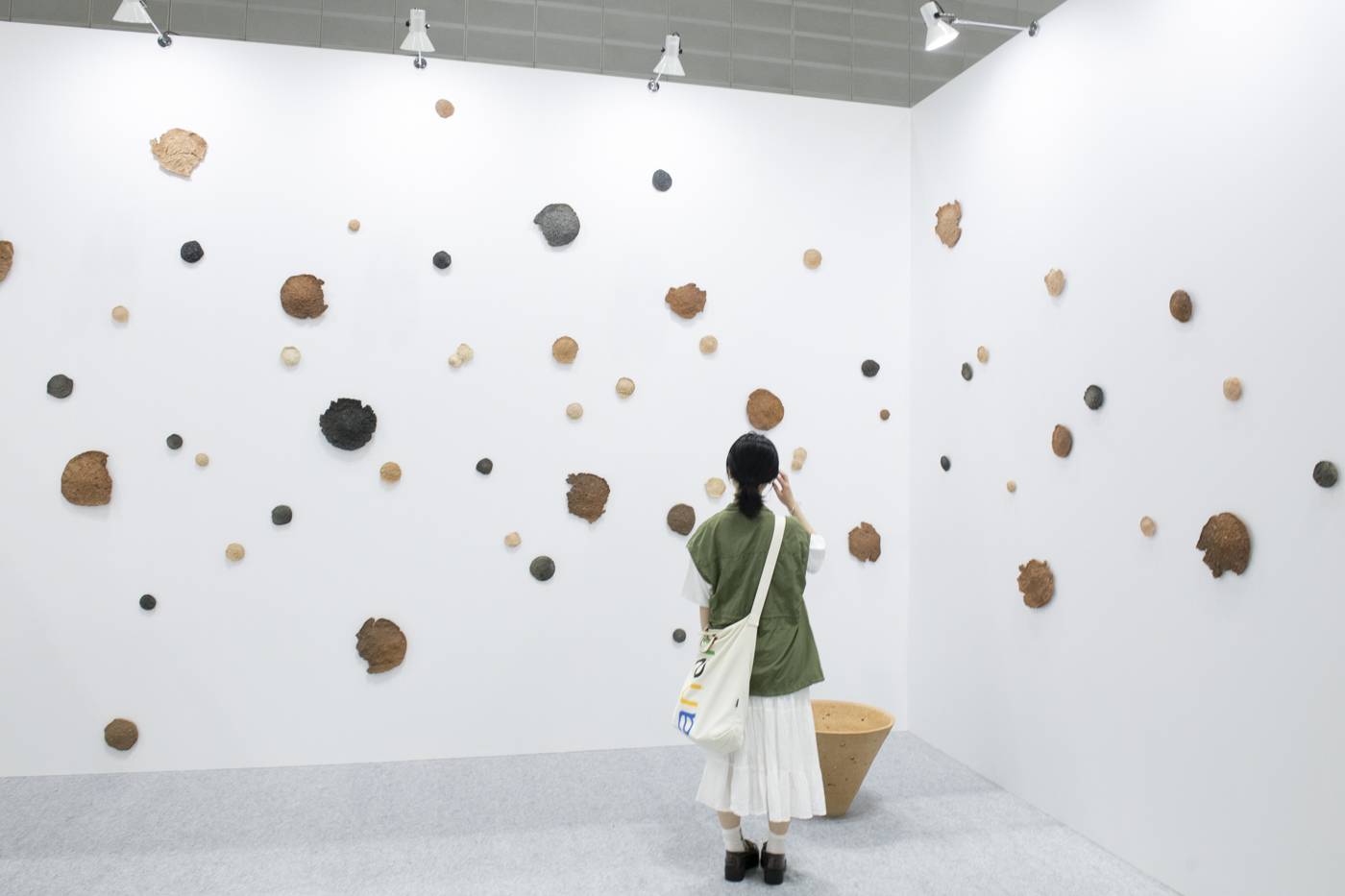 The gallerist manning the booth for Seoul's 313 Art Project describes the fair's organizers as "very thorough and kind," though they also mention that, in terms of traffic, they had had more interest from international, rather than Japanese, visitors. Lingzhi Zhuang, founder and director of the Shanghai-based Linseed Projects, was circumspect as to how much to expect from her first foray into the Japanese art scene, saying, "I appreciate it, I like the pace, it's slow and conservative, and that suits us."
"Hopefully relationships will develop," says Rawlings at the Blum & Poe booth. "But an issue in the Japanese art scene is that there's an irrational paranoia that foreign galleries will only take money out of Japan. But it's not just galleries that make money from sales; in the longer term, it's an opportunity for foreign gallerists to meet Japanese artists while they're here and then present their work abroad, which enables artists to earn more and realize more ambitions. Which is good, isn't it?"
Not good for the fair was the number of visitors: 4,000 short of the 25,000 that Art Assembly was hoping for. As for sales, without giving overall figures, the post-show press release only reports that they were "strong." The blue-chip Perrotin Gallery, located at the entrance to the VIP lounge, is mentioned as having "largely sold out its booth by the end of the first day."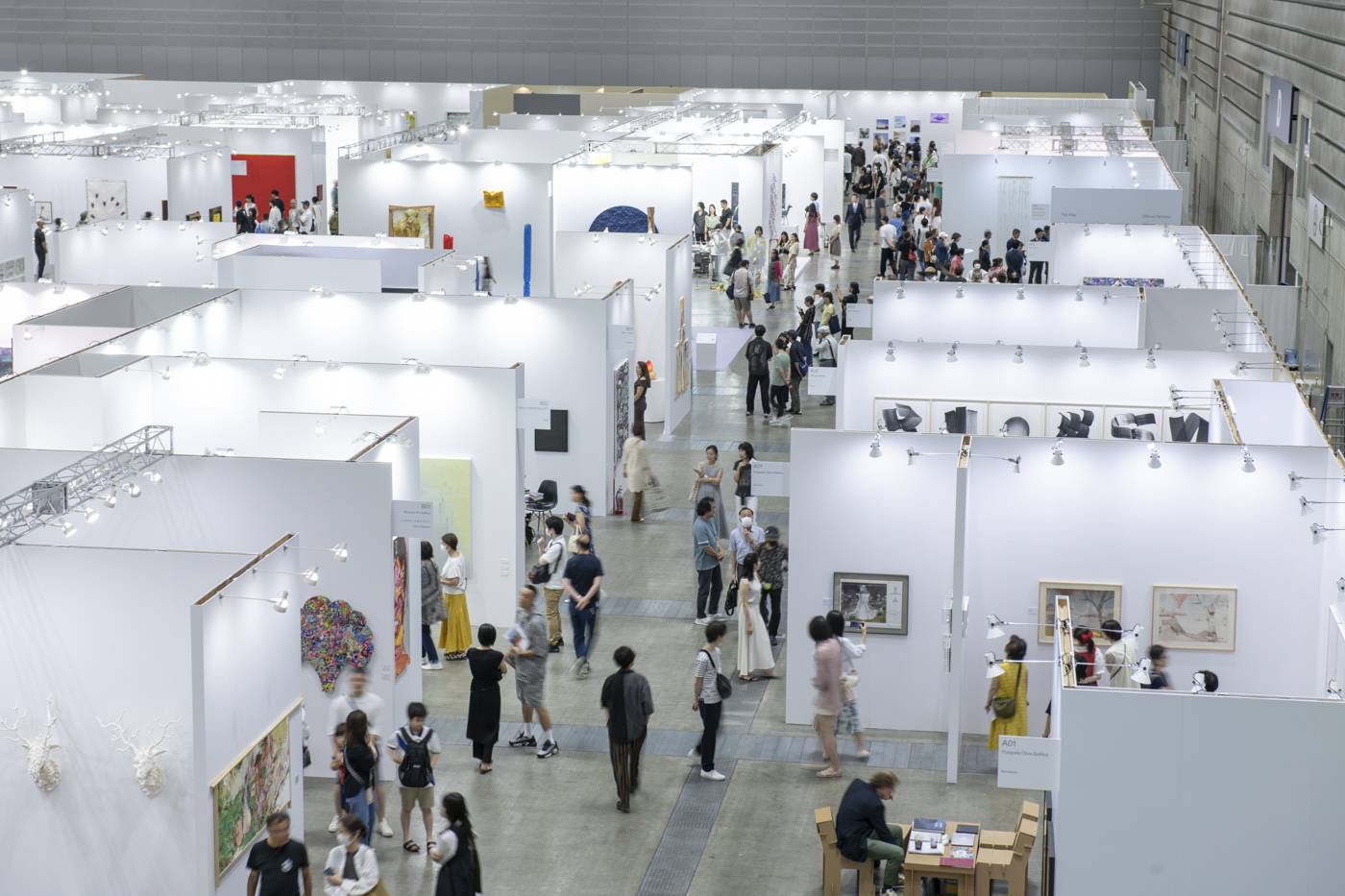 As a visitor experience, the fair was sedate rather than frenetic. In other words, good as an opportunity to look at work, approach gallerists and have a conversation about what they were showing, but not great as an indicator of a burgeoning consumer base for contemporary art in Japan.
Should the general public care about whether a tax avoidance scheme for art dealers and collectors from Japan and overseas will be successful? Almost certainly not.
As to whether increasing the activity of the art market will equate to an increase in cultural sophistication, the change in customs duty is part of a five-year plan by the Ministry of Education, Sports, Science and Technology to create "a nation based on culture and the arts," which should "cultivate rich humanity, nurture creativity and the senses." It is the latest in a series of policies going back to the 1990s that have been aimed at reconfiguring Japan as a post-industrial society with a predominantly service and tourism economy.
"I don't understand contemporary art, but it's sort of interesting" was the message on a tote bag from the Contemporary Art Dealers Association Nippon spotted at the fair. It seems like a reasonable summation of how things are going with the government's policy goals, and what Tokyo Gendai may be dealing with in the years to come.