Short-term cost factors are taking precedence over long-term emissions goals in the government's energy policy.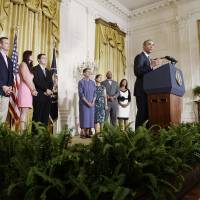 World
Aug 4, 2015
President Barack Obama unveiled the final version of his plan to dramatically cut emissions from U.S. power plants, as he warned anew that climate change will threaten future generations if left unchecked. Touting the plan at a White House event on Monday, Obama said the ... Indonesian President Joko "Jokowi" Widodo said Tuesday a project to build a $4 billion thermal power plant project funded by an Indonesia-Japan consortium will begin at the end of April. "God willing, we will go there for the groundbreaking at the end of this month," ...