As part of several gourmet garden delights offered at the Tokyo Marriott Hotel, the Green Garden Terrace Box, which is a three-tiered lunch box wrapped in a furoshiki wrapping cloth, is a springtime treat available at the Terrace of Lounge & Dining G until May 31.
The picnic box, available for two or more people, contains 16 seasonal dishes. The first tier is comprised of such items as marinated sea bass and roast chicken, while the second tier includes a beef "lollipop" rice ball and crab and soybean kadaif. A variety of desserts fill the third tier such as a peach Danish, pistachio muffin, matcha panna cotta, shiratama uguisuan (soft mochi rice cake balls with sweet green pea paste) and assorted seasonal fruit. The lunch box comes with clam and sea lettuce soup.
It is offered between noon and 2:30 p.m. and priced at ¥4,000 per person.
All prices exclude tax and 10 percent service charge.
The Tokyo Marriott Hotel is 10 minutes from Shinagawa Station's Takanawa Exit. For more information, call 03-5488-3911 or access www.tokyo-marriott.com.
Mouth-watering mountains of meat
The Hyatt Regency Tokyo is holding an American Meat Jamboree until May 31 at the Caffe located near the second floor lobby.
Between 11:30 a.m. and 10:30 p.m. guests can enjoy a variety of meat dishes with steak, roast beef, Buffalo wings, burgers and more among the mouth-watering dishes on the menu.
The head chef's specialty Caffe Big Burger made of juicy wagyu, as well as the Big Burger with foie gras, are guest favorites.
A whole shoulder cut of delicious roast beef, one of the most popular dishes usually served at the restaurant's weekend buffet, and T-bone steak are available for ¥7,722 each, while Buffalo wings are priced at ¥3,921.
A delectable lineup of side dishes such as tacos (¥2,376), an onion ring tower, steamed cabbage with anchovy and bacon sauce and French fries (all at ¥2,139) are perfectly complemented by beer and wine. All prices include tax and service fee.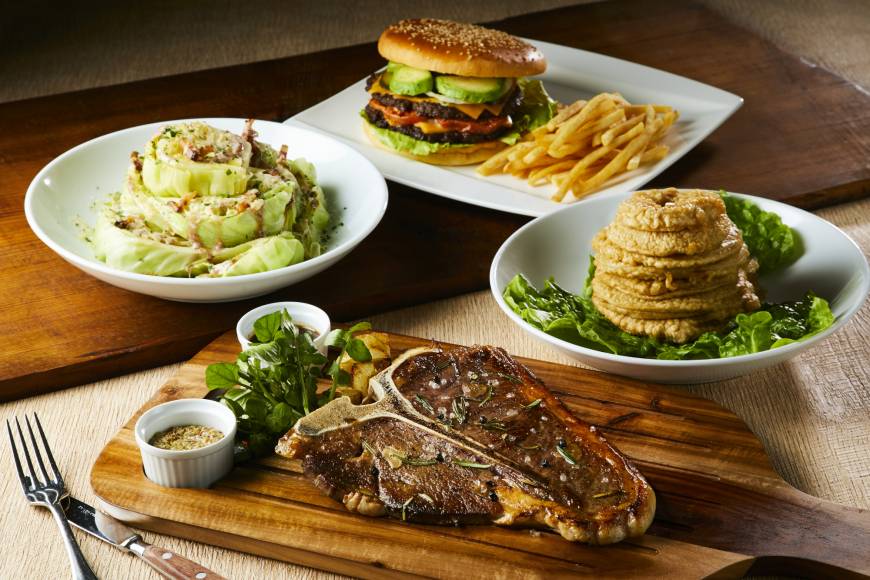 The Hyatt Regency Tokyo is connected to Tochomae Station, four minutes from Nishi-Shinjuku Station, or nine minutes from Shinjuku Station. For more information, call 03-3348-1234.
Fine French dining overlooking Kyoto
The Rihga Royal Hotel Kyoto is offering a "French Dining Top of Kyoto" accommodation plan until June 30.
The plan includes breakfast, allowing guests an elegant start to their day at the 14th-floor Top of Kyoto French restaurant, a revolving dining space on the top floor of the hotel. One rotation takes 60 minutes, and guests can enjoy breakfast while taking in the 360-degree panorama of the old capital from the window seats.
Breakfast offers morning coffee and other beverages, as well as expertly prepared dishes using Kyoto-farmed eggs and milk and jam made from local produce.
Guests who book the plan from the hotel website are offered the perks of a noon checkout, one time use of the indoor swimming pool and a ¥1,000 voucher for one of the hotel's five restaurants (one voucher per room).
Priced from ¥9,950 per person for a standard twin room for two, ¥11,200 for a deluxe twin for two and ¥9,388 for a superior twin for three, the plan offers a great way to stay in Kyoto. All prices include tax and service charge.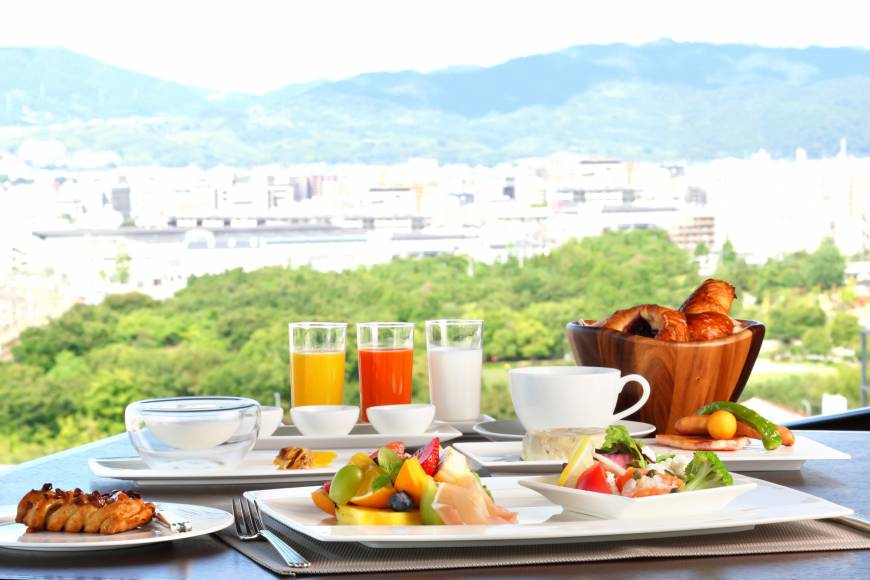 The Rihga Royal Hotel Kyoto is seven minutes from Kyoto Station and a free shuttle bus is available. For more information and reservations, call 075-361-3333 or visit www.rihga.co.jp/kyoto/stay/privilege.