On the outskirts of Tsukuba in Ibaraki Prefecture, there is a homey place called Tamaribar, a play on words combining "tamariba" ("hangout") and "bar." It serves local delicacies, the kind that people eat everyday without noticing their value, like fresh eggs with locally grown rice. It also sells souvenirs and fresh-picked vegetables, holds various events and rents the space for new activities such as cooking lessons. But the most valuable thing you can get at Tamaribar, if you are looking to learn about the area or considering moving there, is connections with local people.
Tamaribar is located in Oda, one of the eight districts that surround the central area of Tsukuba. Similar to other rural towns in Japan, it faces various challenges due to the aging of residents and depopulation. "The house vacancy rate in Oda is rising. The community will lose its sustainability as the number of empty houses increases," Hiroyuki Orui, director of the nonprofit Tsukkura, which manages Tamaribar as well as other events and projects in the community, said in a recent online interview with The Japan Times.
Orui has been aware of these issues for quite some time, since for many years he worked for a construction company as an architect specializing in the restoration and reconstruction of old buildings. He is originally from Tokyo but was transferred to the company's headquarters in Tsukuba 17 years ago. "Once you settle in a community, you start to realize issues that the community has. Just like Japan suffers from the issue of overpopulation in urban metropolitan areas and depopulation in rural areas, the population in the central part of Tsukuba is increasing, while the opposite is true in the surrounding area, with more houses becoming empty," he said.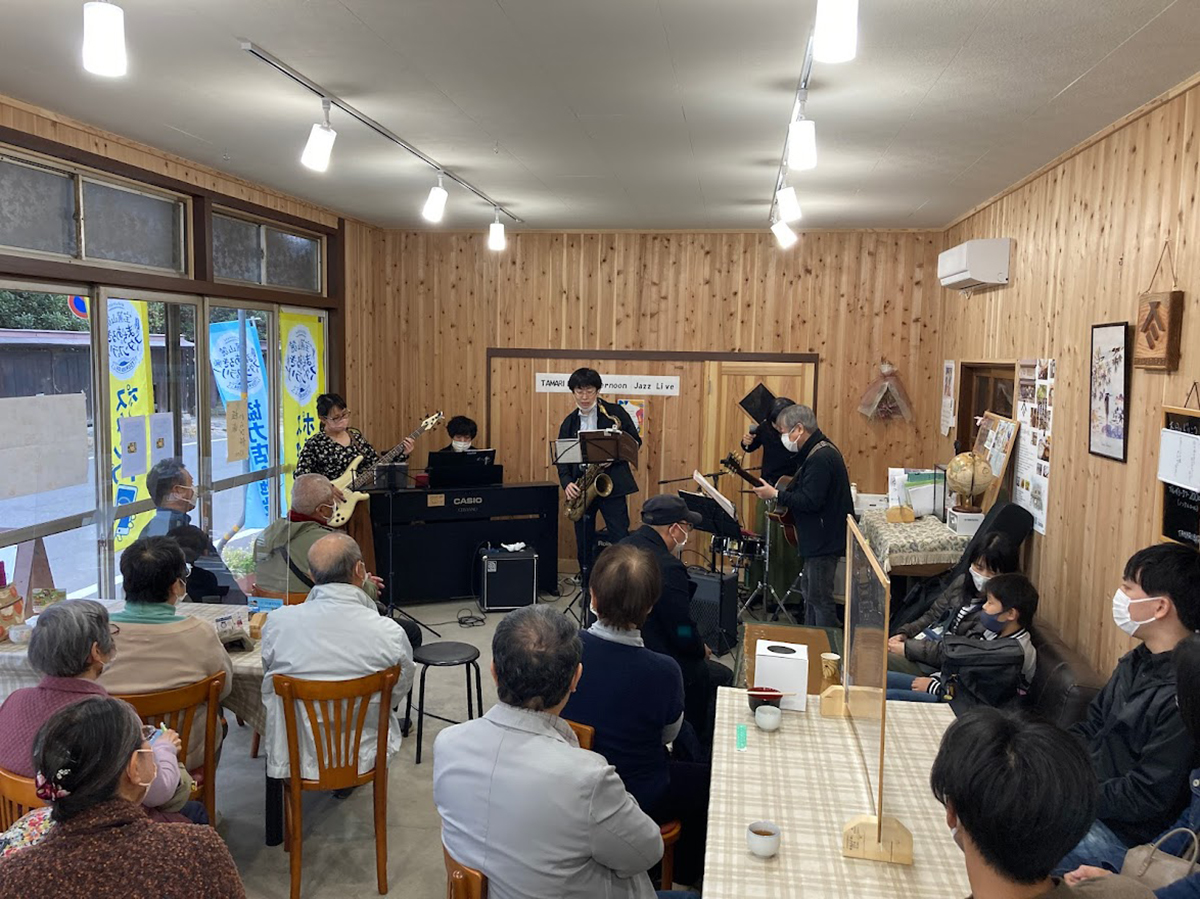 Orui started thinking about what he could do to revitalize the town by utilizing existing resources and vacant houses, and just before he turned 70 he found a place where he can realize his ideas. It was a vacant building that once had been a general store that everyone in the neighborhood, from children to the elderly, used to visit daily.
He renovated it and turned it into a place where people gather again, this time not only from the neighborhood but also from outside the community. This is how Tamaribar was born in December 2019.
"More than 100,000 visitors come to the area to enjoy trekking in Mount Hokyo, which is part of the Tsukuba mountain range, but there are not many places to eat, have coffee or shop," Orui said. There are also many bikers who come to ride on the Tsukuba Kasumigaura Ring Ring Road, a cycling path that runs through the town.
But Tamaribar's purpose is not just catering to the needs of temporary visitors. Orui explained that there are people who are actually looking for places to live in the area, including foreign researchers commuting to Tsukuba Science City. One might think that renting vacant houses to such people would be a perfect solution, but it is not easy to find the right person to talk to if you are an outsider.
That is where Tamaribar becomes useful, because where people gather, information gathers too. Tsukkura members and supporters who help run Tamaribar are a diverse group, from university students to local landowners. Outsiders are able to find the information they want, receive useful advice and be introduced to the kinds of people they had been looking for.
However, Orui said, there is yet another problem that one needs to be aware of when trying to find a solution for vacant houses. "Many of the owners are simply not interested in renting the empty houses," he said, either because they don't need the money or because they want to keep relatives and neighbors from speculating about their financial situation. "In such cases, underlining economic values would not help," he said. "The keyword to convince these owners would be 'contribution.' We need to make clear that they would be contributing to the people and the community by leasing those vacant houses."
In addition to promoting the use of vacant houses, Tsukkura runs the Nagata House Project renovating a 90-year-old traditional house near Tamaribar. Orui said about 20 volunteers, including graduate students and foreign students at the University of Tsukuba, come to help with the work.
"We want to use this house as a short-term accommodation for foreign researchers. With this as a model case, we aim to work on other vacant houses to turn them into various facilities such as a shared house, co-working space and group home for the elderly," Orui said.