NTT Urban Solutions recently acquired a new certification of international guidance on the operation of smart cities over its development project in the central Nagoya district of Higashisakura, conducted in collaboration with NTT Urban Development and other NTT companies.
The certification, called ISO 37106, is the first granted in Japan since the International Organization for Standardization established ISO 37106 in 2018. The standard focuses on "how to develop an open, collaborative, human-centric and digitally-enabled operating model" for a smart city that "puts its vision for a sustainable future into operation."
Terufumi Takada commented in a recent interview with The Japan Times that what counts is creating a place that keeps developing after construction work is complete, which is what the international standard was established for. "In the case of buildings, their value is usually highest when new," he said. But we aim to continue to grow after the construction is completed by applying the results of the Higashisakura project to other districts and vice versa. "We aim for growth with age, not degradation with age," he said.
The question is how to decide the direction of growth. Takada and Yuko Kishi explained that to do this, they involve all the stakeholders not only in the target area but also in the surrounding districts. Takada said they are engaging with members of the association of shop owners along the Hisaya-odori boulevard in the center of Sakae, a major downtown area in Nagoya, as well as people living in neighboring residential areas. "We are trying to learn what their expectations are, because we aim to clarify and realize what those who live, work and shop there find value in and what kind of future they imagine, using the power of digital technologies instead of building the kind of town that developers design," Takada said, pointing out that this human-centric strategy perfectly aligns with the principles of ISO 37106.
Kishi said, "We incorporate technologies based on the needs of each of the stakeholder categories in the area to make this town one that continues to evolve." She said NTT's data platform is supporting this continuous evolution: "We can accumulate and analyze the area data in the platform and use the findings to create new services and solutions, as well as apply them to other places."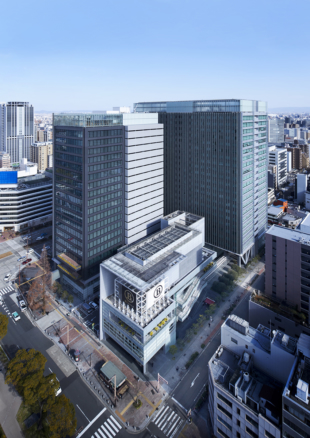 Some of the examples of such services and solutions include an effort to cut in half the energy consumed by air conditioning in the Urbannet Nagoya Nexta Building, an office building with commercial facilities newly built by NTT Urban Solutions and NTT Urban Development in the northwest corner of the district.
"It is said that about half of the energy used in a building is for air conditioning. We are going to halve it by gathering data from sensors that detect temperature and moisture or the flows of people and using it to create a control setup that ensures optimal operation, with low energy consumption yet a high level of comfort," Takada said.
Takada said they are also planning to implement a system that helps reduce food loss by forecasting the number of customers at each restaurant, using data drawn from past history based on weather, day or the impact of events being held in the neighborhood.
Kishi explained that they are also introducing a contactless elevator system powered by facial recognition technology in collaboration with Mitsubishi Electric Corp. "The system recognizes the face of the worker, understands which floor he is on and guides him to the elevator that will reach the floor the quickest. This allows an effective operation of elevators, prevents overcrowding and minimizes waiting time," Kishi said, pointing out that this is also an effective solution in a pandemic-aware society where people are more concerned about health and sanitation.
These solutions and more can also be deployed to other buildings and other areas. Taku Mikami of the NTT Data Institute of Management Consulting said: "We have long engaged in human-centric urban development, but this project helped us learn the evaluation process of the international standard on this. From here on out, we aim to focus our efforts on supporting municipalities and developers to build and operate human-centric cities offering well-being on the international standard."
Using technology, a resource that society now possesses, to solve social issues and keep improving cities is a way to achieve the sustainable future that the ISO guidance aims for.