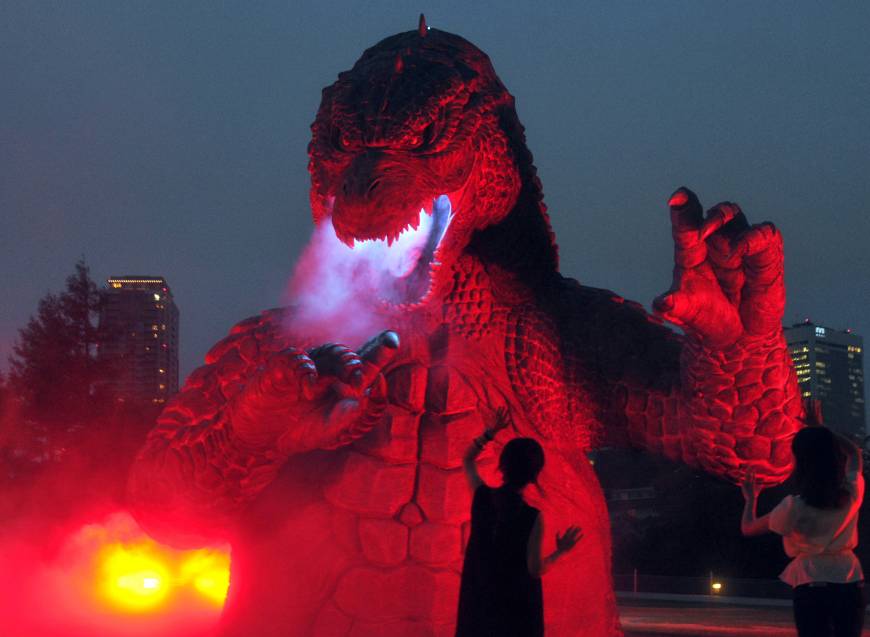 Sixty years ago, Godzilla rampaged Tokyo on the big screen, leaving it to waste and ruin and reminding the nation of the consequences of nuclear weaponry. Horrific as that sounds, Toho's resurrected kaiju became a huge hit, much loved by baby boomers, who remember his original debut, as well as by following generations of monster-film fans.
Now it's back — and it's stomping in the backyard of Tokyo Midtown, which just happens to be former site of the Ministry of Defense.
To celebrate the release of the new Hollywood screen version of "Godzilla," Tokyo Midtown has unveiled a giant statue of the creature to terrorize the shoppers. At a seventh of the size of the new U.S. Godzilla, you'll find it emerging from the multipurpose commercial complex's Midpark at 6.6 meters tall, with trailing tail making it 108 meters long.
Already looking angrier than its original 1950s incarnation, this Godzilla gets particularly fiery at night with a light show that includes mists and roaring noises. It's also left a giant 18-meter wide footprint behind. Godzilla will be attacking the complex until Aug. 21, with evening light shows every 30 minutes from 6 p.m.