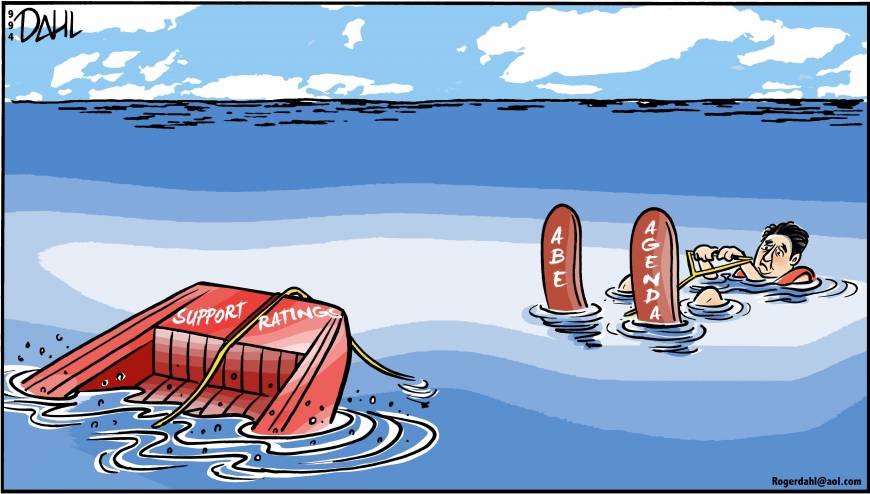 Editorials
The distrust and the ensuing competition between Asia's two largest nations — both armed with nuclear weapons — must be contained.
Even if North Korean priorities are misplaced, the rest of the world should do what it can to ease the suffering of a public that is battered by the indifference of its leaders and the vicissitudes of nature?
Commentary
Voters are ready for a viable alternative to the LDP, but the leading opposition party is failing to deliver.
Abe's choice is clear: Show Kuroda the door, or open his Cabinet to new thinking by a man who's seen considerable action in the economic trenches.
Commentary
The U.S. president's approval ratings are dismal, but he remains popular with his base and Republican leaders don't see him as a liability yet.
As long as the Democratic Party's leadership is owned by big-monied special interests, it will never give the people what they want and need.
The holy site has been the symbolic flashpoint of the broader Israeli-Arab struggle since at least 1929.
The Sino-Indian crisis has underscored the centrality of propaganda in China's foreign policy.
Britain faces a bumpy ride in the wake of Prime Minister Theresa May's failed election gambit.
In China it is politics, or the perception of such, that is the surest route to getting stamped "banned by Beijing."
No Russian political leader is offering a vision ambitious and inspiring enough to compete with Putin. Perhaps that's why he finds it so easy to suppress dissent and hold on to power.