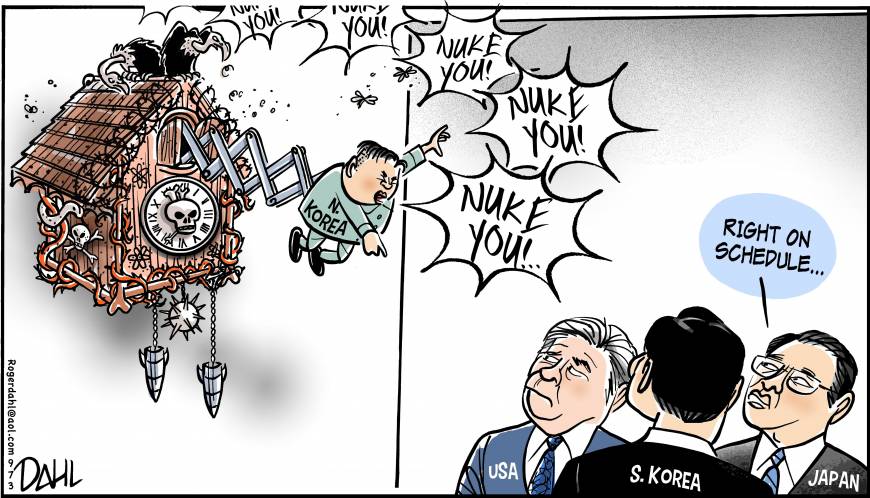 Editorials
Government legislation that would penalize the acts of plotting and preparing for crimes without carrying them out could impact the human rights of citizens through increased surveillance activities.
It's now up to the courts to unravel the motives behind the Sagamihara stabbing spree, and the government to come up with an improved system for dealing with potentially dangerous mental patients.
Commentary
No group of islands poses a bigger challenge for Japan's security than the Senkakus.
Today, the EU and Japan are in the best position to transform what has been coined as "the crisis of the West" into an opportunity to innovate and to deliver stability and prosperity.
Commentary
Indiscriminate or otherwise, aerial bombing remains the preferred choice of warfare for the United States, which dropped 26,171 bombs in 2016 alone.
The deadliest outbreak of H7N9 bird flu since its discovery in 2013 is sweeping across China.
Trump can't be a unifying figure when he's having so much fun being divider in chief.
Leaving the EU single market may have little affect on British economic growth due to the nature of modern trade.
For the past half-century Africa's population has been growing as fast or faster than its economies.
Donald Trump's America isn't the only country turning its back on refugees. Japan is just as guilty.
The milk of human kindness toward refugees has soured across the world.