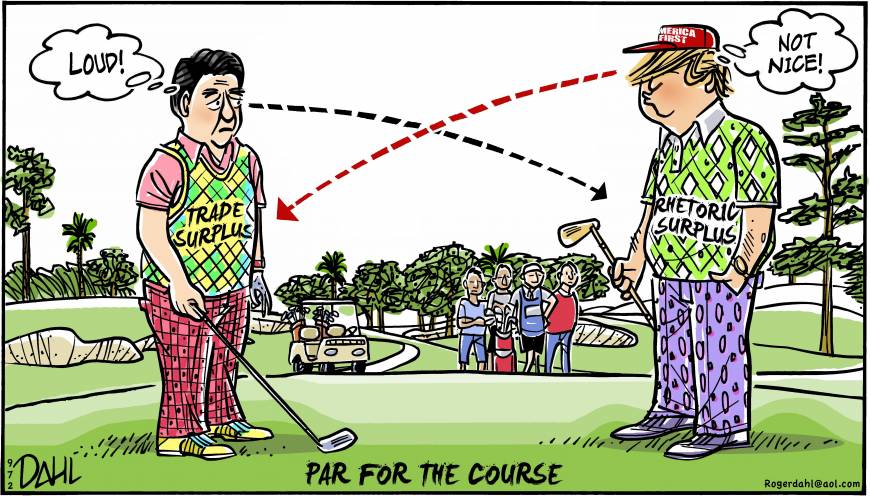 Editorials
The government needs to do more to spur consumer spending.
Japan, at both the public and private level, needs to be more proactive about getting its farm products globally certified.
Commentary
Prime Minister Abe should be pursuing a more Asian-oriented policy with the aim of creating a peaceful backyard that can withstand any future Trump tantrums.
Admission into nursery school is no assurance of a quality education.
Commentary
Not only did Donald Trump rant and rave at his first presidential news conference, he denied he was ranting and raving — which is even more bizarre than actually ranting and raving.
You have probably read and watched more about the recent bilateral summit between Prime Minister Shinzo Abe and U.S. President Donald Trump than anyone but a masochist should have to bear. However, there were some precious moments to savor. A welcoming bear hug had ...
Our responsibility for the ocean's health is as deep, fundamental and permanent as our dependence on it.
Analysts trying to parse U.S. policy in the Trump era regarding the South China Sea must be prepared for stark contradictions and intellectual whiplash.
The U.S. watchdogs of democracy have long been mostly lapdogs, gently licking the blood-soaked hands of those who fed them — America's political and corporate elites.
The American people and the world deserve to know the psychological profile of the U.S. president.
It seems Kim Jong Un is tying up loose ends, eliminating a family heir who might have been used to legitimize a successor regime.