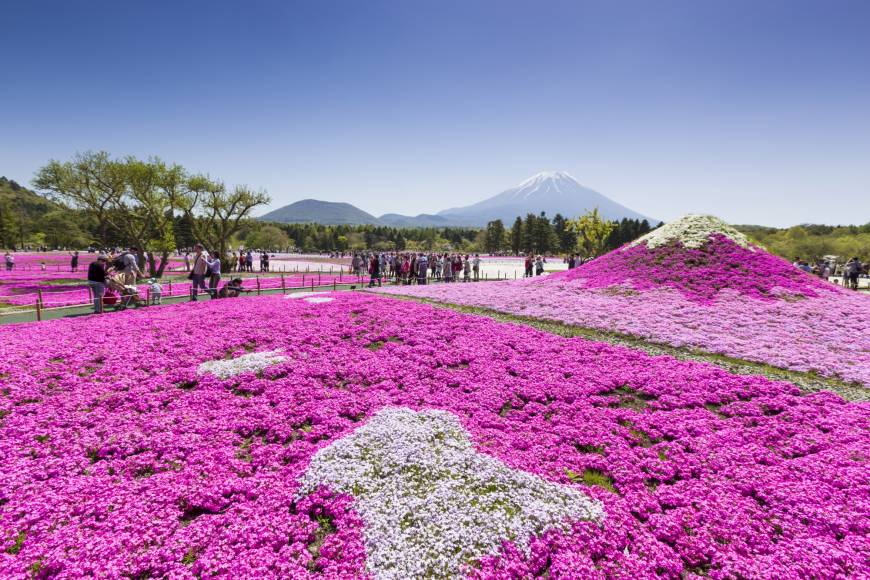 Fuji Shibazakura Festival
When it comes to beautiful Japanese landscapes, there's no beating Mount Fuji. And when the shibazakura (moss phlox) comes into bloom nearby, it's just the icing on the cake.
The Fuji Motosuko Resort near Lake Motosu in Yamanashi Prefecture will be carpeted in the brightly colored shibazakura blooms from April 15 to May 28.
Covering an area of 2.4 hectares, the venue's ground will be spread with around 800,000 stalks in bloom, which includes deep-pink McDaniel's Cushion, soft-purple Oakington Blue Eyes, white Mont-Blanc and four other varieties.
For those who missed out on cherry blossoms this year due to the rain, a walk through these fields is just what you need to get back to nature. There will be stalls serving local dishes at the resort, but those looking for a little extra elegance can check out a cafe and foot baths — all with Mount Fuji looming proudly in the background. (Yuki Yamauchi)