 The special pay cut for national lawmakers expires this month. Minna no To threatens to shake up the Diet with legislation that reduces government salaries. Pity the fool that contests it.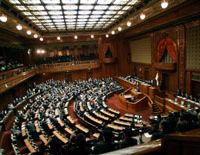 The Diet is the center of Japanese politics. It's where ruling and opposition lawmakers play power games and employ tactics in both open and backroom negotiations. With this year's ordinary legislative session set to start Thursday, following are some basic facts about the parliamentary ...