Topics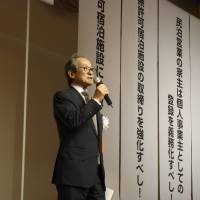 The industry group representing ryokan inns and hotels nationwide says short-stay accommodation is gaining popularity.
Tokyo Gov. Yoichi Masuzoe has offered to halve his salary amid growing calls that he resign following his "improper" use of public funds. Masuzoe is expected to submit a draft to revise the ordinance on his salary by the end of the current Tokyo ... A Buddhist temple in Nemuro, Hokkaido, is seeking to redefine its role in the community amid a rapid decline in followers. Nemuro Betsuin Temple of the Shin Buddhism Otani sect began a series of meetings with volunteers last June under the moderation of Ryo ...