Visitors to Tokyo will soon be able to enjoy a luxurious accommodation experience at an exquisite serviced residence in Otemachi, the capital's business and financial hub.
The Ascott Limited, one of the leading owner-operators of serviced residences, will launch Ascott Marunouchi Tokyo on March 30, 2017. The serviced residence occupies the 22nd to 29th floors of the newly built 29-story Otemachi Park Building in central Tokyo.
The premier serviced residence will be the first in Japan under the highly acclaimed Ascott The Residence brand.
"Ascott The Residence, our premier brand that has been recognized worldwide with numerous accolades, is home to top business executives and dignitaries, as well as industry leaders," said Tan Lai Seng, Ascott's regional general manager for Japan and Korea.
"Since we started operations in Japan more than 10 years ago, Ascott has built a strong reputation with the Citadines and Somerset brands. Many of our customers have been eagerly anticipating the opening of our first Ascott-branded serviced residence in the country," Tan noted.
With the opening of Ascott Marunouchi Tokyo, which features 130 apartments, the number of units Ascott operates in Japan will increase to 878.
Ascott's six other serviced residences in the country are Citadines Shinjuku, Citadines Central Shinjuku, Somerset Azabu East, Somerset Ginza East, Somerset Shinagawa — all in Tokyo — and Citadines Karasuma-Gojo in Kyoto.
One of the main features of the soon-to-open Ascott Marunouchi Tokyo is its prime location in the capital's economic center.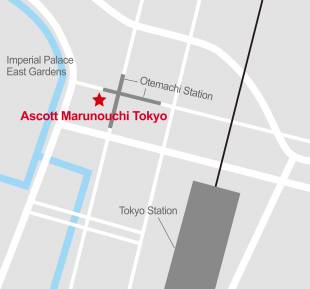 "With Japan's growing economy, Ascott Marunouchi Tokyo's strategic location, where many multinational companies and major Japanese banks and companies are based, and its timely opening ahead of the Tokyo 2020 Olympics, we are confident that the serviced residence will be a draw for discerning business and leisure travelers seeking a world-class experience and the comforts of home," Tan stressed.
The advantageous locale, which faces the greenery of the Imperial Palace East Gardens to the west, ensures business executives will be free from any inconvenience. The luxury property is connected underground to Otemachi Station, which is one of the capital's largest subway stations and served by five different lines, making getting around Tokyo a breeze.
Moreover, it is just a 10-minute walk to Tokyo Station, which allows for more long-distance travels — for business or pleasure — by shinkansen and other major lines.
The serviced residence is also close to the famed Ginza district, where visitors can enjoy shopping, a wide variety of restaurants and bars.
The much-anticipated accommodation facility has more features that are sure to fully satisfy discerning guests, making them feel as if they are in their second home.
Customers are immediately freed from the city's hustle and bustle upon arriving at the residence. The Otemachi Park Building has an exclusive entrance and elevators for Ascott's clientele, enabling smooth access to reception on the 22nd floor.
In the spacious lobby decorated with fine artwork on the 22nd floor, Ascott's attentive bilingual guest services staff, who are available around the clock to better offer personalized services, graciously welcome guests.
The floor features facilities that allow guests to relax and refresh themselves during their stay. These include a lounge, a rooftop terrace equipped with sofas, a gym, pool, restaurant and nursing room. The restaurant is also open to the public.
There are business features on the floor with three meeting rooms and a designated business center that is equipped with a computer and printer.
Amenities and services include daily housekeeping (once a week for long-term staying guests) and Wi-Fi connectivity. Additionally, charged services such as dry cleaning, fax and printing, as well as underground parking are also available.
From the 23rd floor up, Ascott Marunouchi Tokyo boasts 130 exquisitely designed apartments, in which guests can enjoy magnificent views of the capital.
Based on their needs, Ascott Marunouchi Tokyo is an ideal accommodation choice for both business and leisure travelers alike, whether for short or long-term stays. Customers can choose from seven types of apartments: studio, one-bedroom deluxe, one-bedroom executive, one-bedroom premier, two-bedroom deluxe, two-bedroom executive and the Marunouchi suite. These apartments range from 38 sq. meters to 163 sq. meters.
It should be noted that each apartment has separate living and dining areas, providing guests with a homey atmosphere. Some apartments come with a tatami room for those interested in experiencing a bit of local living.
Many of the apartments at Ascott Marunouchi Tokyo feature a fully equipped kitchen, as well as a washing machine, and all feature bathrooms. With these comforts, guests will almost forget they are not at home.
As an opening promotion available through June 30, 2017, Ascott Marunouchi Tokyo is offering promotional rates starting at ¥35,000 per night. Guests can also take advantage of complimentary daily continental breakfast and daily housekeeping service, as well as a choice of three perks: a voucher for their next stay at the opening promotional rate, complimentary bottle of red wine or a 2 p.m. late check-out.
The Ascott Limited is the serviced residence arm of Singapore-based real estate company CapitaLand Limited. By 2020, Ascott aims to reach a global target of 80,000 units.
For more information, visit www.the-ascott.com/japan/tokyo/ascott-marunouchi-tokyo or email enquiry.marunouchi@the-ascott.com