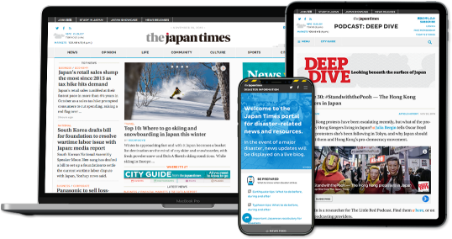 News you can use
The Japan Times subscription puts you in the know, with the latest English-language news and insights about Japan and the world, available on a variety of devices.
DIGITAL

LITE

first month free
Read up to 80 stories per month

Email update service
Upgrade your subscription plans with options (+40, +80)
DIGITAL

FULL

first month free
Access stories (unlimited access)

Email update service
Free PDF downloads of the day's TV/radio programs
The rates above include VAT
* To sign up for a new membership, click here
* Current subscribers to The Japan Times / The New York Times, click here
* Current users who receive email updates, click here
* We have corporate plans and will work to meet your requirements. Please email us.
(Email: jtsales@japantimes.co.jp)
PRINT SUBSCRIPTION
[Important] To those who live in Hokkaido, Yamaguchi, Kyushu and Okinawa prefectures
HOME DELIVERY
(ONLY AVAILABLE IN JAPAN)
DAILY NEWSPAPER


Bringing you both The Japan Times and internationally renowned The New York Times. (holidays not included)
Subscribers can access the following digital plans for free.
The Japan Times Website DIGITAL Plan registration
NYTimes.com All Access Plus Plan registration
SUNDAY NEWSPAPER


Japan's only English-language tabloid Sunday newspaper features everything you need to know about the world around you in a compact format.
Content
News reports of the week (politics, economy, sports, culture and more)
In-depth stories on a wide range of topics
FREE TRIAL
You can try a 7-day
subscription for free
The Japan Times
The New York Times International Edition
The Japan Times On Sunday
LEARN MORE
THE JAPAN TIMES
We Know Japan
The Japan Times has been delivering the news of the nation for more than 120 years.
Legacy

Read a trusted authority on the nation's past, present and future. Our history spans more than 120 years, and it is generations of reader support that fuels our reputation as a go-to source of information.
Trust

Read the news source widely respected for its authoritative coverage of the news, making it the English-language newspaper with the largest circulation in Japan.
Originality

Hear an independent voice, made up of experienced reporters, editors and contributors, providing both the local angle and a global perspective.
Network

Join a community of readers who want to not only follow the news of the day, but also better understand their neighbors and the world around them.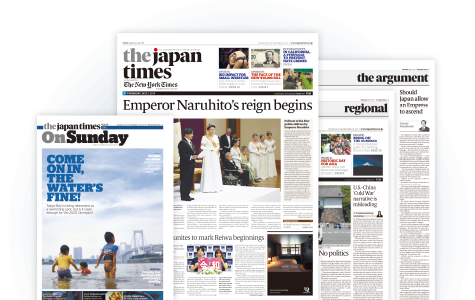 THE JAPAN TIMES WEBSITE
Now We Come To You,
Wherever You Are
Get the same high-quality made for print - and more - on the digital device of your choice.
Up To Date

As a member, you can receive the top stories of the day in your inbox. Get your daily dose of Japan news without searching.
On The Go

Whether you want to browse news on your desktop, smartphone or tablet, we've got your covered. The Japan Times Website renders to virtually any screen size.
As You Like

Not a heavy user? No problem. The Digital plan gives full access to all content while our Digital Lite plan allows subscribers to read up to 80 stories a month. Choose the plan that suits your needs — and upgrade whenever you like.
In Case Of Disaster

Swift, accurate coverage and vital information.
Our live blog provides the latest news and updates on damage and transportation delays in times of emergency.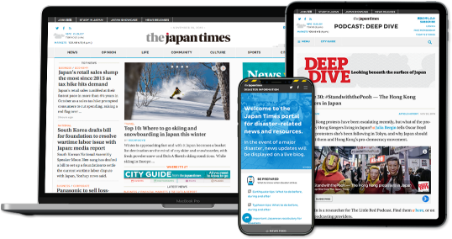 FAQ
What are The Japan Times Membership Services?

Signing up for a free membership makes you eligible for a range of online services. Non-subscribers can read up to 10 stories per month for free, while paid subscribers can access further content depending on their plan specifications. There is also an option to receive daily email updates. Members of the service are entitled to the following:

・Read stories on The Japan Times Website (free access up to 10 stories / month)

・Receive free Email Updates

To register, click here
I don't subscribe to the newspaper. Can I read your stories online?

Yes. You can read up to 10 stories per month, free of charge. The following conditions apply:

A free membership is required to access 10 stories. *Those who are not registered can only read up to five stories per month.

Kyodo News stories expire after 30 days. For the details of wire service contracts, see here .

Subscribing to the DIGITAL plan (with charge) allows unlimited access to all stories.
Do page allotments apply to all of the JT website pages? Does the front page count as page view? How about search results?

No, the front page, category index pages (e.g. Top News page ) and search result pages are not included in the story allotment.
Can I read all the stories in the newspaper on The Japan Times Website?

The vast majority of stories published in the paper will also appear online. A small number, however, are published in print only. Due to wire service contracts, certain stories will be displayed online for a limited time.
I'm a JT/NYT subscriber. How can I use my subscriber benefits to utilize the free full access to The Japan Times website and NYTimes.com?

Follow these simple steps to start enjoying free digital access on any device.

■ I'm already a registered member

1. Click on My Account

2. Choose "About JT/NYT print subscription benefit"

3. Fill in the form and confirm. Click on "Registered as a current subscriber"

4. After applying, you will receive emails as a record of your account ID for The Japan Times website and/or subscription number for NYTimes.com. You can also view this information by logging into the account page on The Japan Times website: https://members.japantimes.co.jp/myaccount

Please note: It may take up to five days for registration

■ I'm not a registered member yet

1. Visit https://members.japantimes.co.jp/membership/summary/

2. Click on "Sign up for membership" and follow the steps. When complete, proceed from step 2 above.
Is there an app for The Japan Times?

There is a free app available.

iOS (Apple devices such as iPhone, iPad)
https://itunes.apple.com/bn/app/thejapantimes/id1239714390

Android OS (other than Apple devices)
https://play.google.com/store/apps/details?id=jp.co.japantimes.www

*May not work on certain device versions.
*Unable to use on other OS such as Windows OS, Blackberry OS

The app is free, but the number of stories available differs by subscription plan

■ Those subscribing to the print edition of The Japan Times / The New York Times can enjoy for free and unlimited access to the digital content of both publications.
*If you haven't registered for The Japan Times Membership Service (free), please proceed here .
*If you have registered, please log in and enjoy.

■ Digital plan subscribers can enjoy free, unlimited stories.
*For details and sign up, click here

■ Digital Lite subscribers can read 80 stories per month.
*For details and sign up, click here

■ Registrants of The Japan Times Membership Service can read 10 stories per month.
Non-registrants can read five stories per month.

*To register, click here

Please make sure to log in!
Subscribers or those registered for The Japan Times Membership Service, please make sure to log in. If don't log in, availability will be limited to five stories per month
*If you haven't used the service for a while, powered off or restarted device, you may need to log in again.
Can I view the website on any browser?

Almost any modern browser. Unfortunately, we do not support older browsers such as IE6 and IE7. We highly recommend that you upgrade your browser to enjoy the optimal experience. If you use IE8, please make sure not to use "Compatibility View."

*The website may not be viewed due to the settings and environments of your device, even when using the latest version of the browser.

Check if your browser's version using the following service: (As of Jan 2017)

Browse Happy ⇒ https://browsehappy.com/?locale=en (* This website is not maintained by The Japan Times)

Browse Happy is an option that alerts you whether your browser is fully updated. Browse Happy provides update information of major browsers. It also helps you find other browsers that may better suit your needs.