A golden opportunity:
¥100 a month
for half a year
Subscribe now to get partial access to The Japan Times for only ¥100 per month for six months. This is a limited-time offer, so sign up today to save ¥4,800 off the normal Digital Lite rate.
DIGITAL LITE
PAY UPFRONT AND SAVE
¥100 a month
for 6 months
Discount total: ¥100 x 6 = ¥600
(Standard rate total: ¥900 x 6 = ¥5,400)
Read up to 80 stories per month
Newsletter service
The rates above include tax
TO SUBSCRIBE TO THE STANDARD MONTHLY PLANS
Conditions:
Only new subscribers are eligible for this offer.
The initial six-month cost will be charged as a lump sum in the first month.
From the seventh month, you will be charged the standard monthly rate.
Cancellation and refunds are not possible during the six-month period. You can cancel your subscription in the seventh month.
LEARN MORE
THE JAPAN TIMES
We know Japan
The Japan Times has been delivering the news of the nation for more than 120 years
Legacy

Read a trusted authority on the nation's past, present and future. Our history spans more than 120 years, and it is generations of reader support that fuels our reputation as a go-to source of information.
Trust

Read the news source widely respected for its authoritative coverage of Japan, making it the English-language newspaper with the largest circulation in the country.
Originality

Hear an independent voice, made up of experienced reporters, editors and contributors, providing both the local angle and a global perspective.
Network

Join a community of readers who want to not only follow the news of the day, but also better understand their neighbors and the world around them.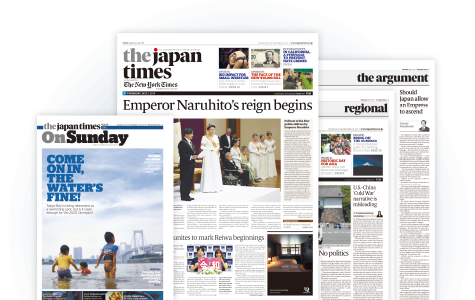 THE JAPAN TIMES WEBSITE
Now we come to you,
wherever you are
Get the same high-quality made for print − and more − on the digital device of your choice
Up to date

As a member, you can receive the top stories of the day in your inbox. Get your daily dose of Japan news without searching.
On the go

Whether you want to browse news on your desktop, smartphone or tablet, we've got your covered. The Japan Times Website renders to virtually any screen size.
In case of disaster

Swift, accurate coverage and vital information.
Our live blog provides the latest news and updates on damage and transportation delays in times of emergency.
As you choose

In addition to browsing our website, you can also read our ePaper, a digitally enhanced replica of The Japan Times that includes features such as audio transcriptions and bookmarks.