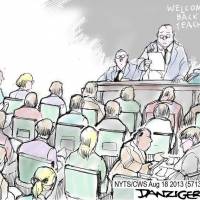 American education officials are turning to Japan in their quest to raise U.S. students' math standards.
Japan
Jun 24, 2013
Making English the standard language at graduate schools in Japan won't be enough to attract more of the "outstanding" students from abroad.
As for "resuscitating" education, Prime Minister Shinzo Abe appears more interested in nurturing children who will help Japan achieve its national goals.