Commentary Topics
Japan
Sep 1, 2016
Zen should be an integral part of educational curricula and an inspiring driver of business practices.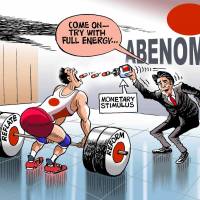 Japan
Aug 30, 2016
Haruhiko Kuroda's use of primitive monetary policy tools makes him the Fred Flintstone of central bankers.
Japan
Aug 30, 2016
The situation in the South China Sea is prompting the Ministry of Defense and the SDF to expand Japan's presence and strengthen partnerships in the region.