National Topics
A passer-by made the discovery at around 10:35 a.m. in Meguro Ward's Himonya Park, police said.
Japan's multibillion-dollar pornographic industry has issued a formal apology and promised change in response to allegations that women have been forced to perform sex acts on film against their will. The move comes after the arrest this month of three talent scouts accused of ...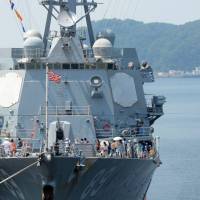 Justice has been a long time coming for Masanori Yamazaki, whose common-law wife was murdered by a drunk U.S. sailor in Yokosuka, Kanagawa Prefecture, 10 years ago, in an unprovoked assault. Yamazaki, 68, is refusing a U.S. government offer to settle over the death ...