Business Topics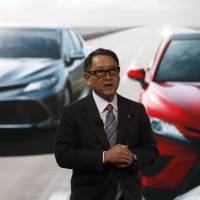 Toyota Motor Corp. will spend $10 billion in U.S. capital investments over the next five years.
Hyundai Engineering & Construction Co., Itochu Corp. and Chinese builders are among companies that may bid for a $5 billion contract to build a network of roads and a suspension bridge across Turkey's Dardanelles waterway, according to people familiar with the matter. At least ...
Honda will invest 492 million Canadian dollars ($372 million) in its Alliston factory north of Toronto, with financial support from the federal government and province of Ontario, Canadian Economic Development Minister Navdeep Bains said on Monday. The governments of Canada and Ontario will each ...