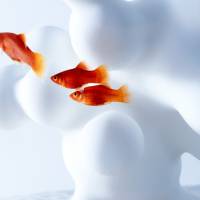 Japan is clearly having some fun with transparent product design. A mix and match of modern and classic is not rare these days, in music Beyonce and Schubert, in cuisine cocktail and sushi, in fashion jeans and geta. No need to wait for a special occasion to glam up your feet with geta as ...
In the port city of Kobe, where the apparel industry and other fashion-related sectors have blossomed under Western influence since it opened to foreign trade in 1868, a unique library at the Kobe Fashion Museum boasts an extensive collection of fashion books and magazines ...