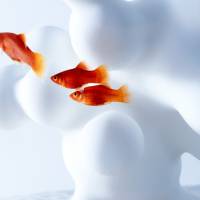 Japan is clearly having some fun with transparent product design.
As always, Japan was well-represented at Salone del Mobile Milano last month, with Sou Fujimoto creating a forest of spotlights for clothing retailer H&M's COS brand, Panasonic's "Kukan — The Invention of Space" installation, as well as separate exhibitions, including the Experimental Creations showcase ... Bags exist in that limbo between fashionable and functional. They carry a purpose but elements of design and style make all the difference.