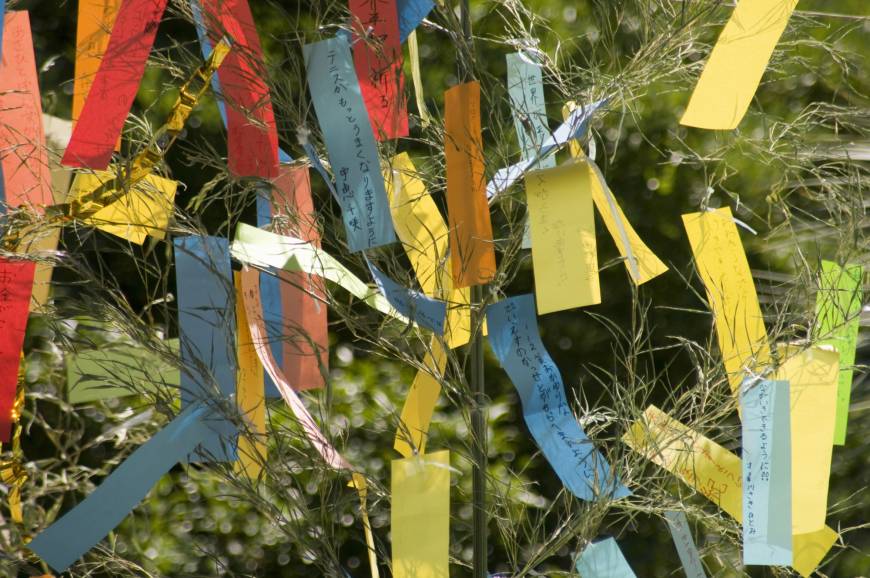 The beginning of July brings many events associated with Tanabata, the Star Festival when two lovers — Orihime and Hikoboshi — are able to meet each other. It's always been considered a good time to make a wish.
From July 1 to 7, there will be chances to experience the tradition at Kuchu Teien, the rooftop observatory of the Umeda Sky Building in Osaka. Visitors will be given tanzaku (paper strips) to write their wishes on and hang them on Milky Way-themed artworks, not on bamboo as custom dictates.
Additionally, Hiratsuka in Kanagawa Prefecture will honor the stellar couple by holding one of the three largest Tanabata events in the Kanto region. As well as tanzaku, the event will feature parades, stage shows by yurukyara (mascots) and hundreds of colorful streamers.
For those with little time to travel in early July, however, opportunity knocks once again as some celebrations will happen around Aug. 7, which is in accordance with the old calendar. Among them will be the annual Sendai Tanabata Festival, a magnet for a few million visitors. (Yuki Yamauchi)
Information for two other festivals.
●Shonan Hiratsuka Tanabata Festival takes place in Hiratsuka, Kanagawa Prefecture, from July 7 to 9. Times vary (see www.tanabata-hiratsuka.com).
●Sendai Tanabata Festival takes place in Sendai from Aug. 6 to 8. Times vary (see www.sendaitanabata.com/en).